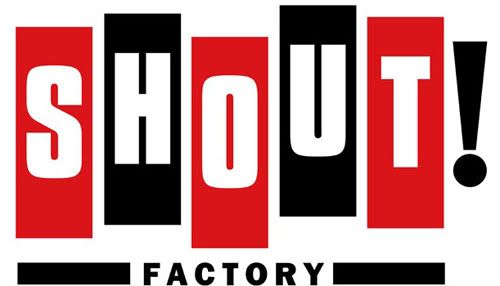 Shout! Factory has a ton of stuff in the works that you probably already know about, like their incredible dedication to the Roger Corman catalog and classic Gamera releases, but there's a few things you might not know about, like a new release in the Corman library being only available through their webstore, Ivan Reitman's long-forgotten horror comedy Cannibal Girls, and a contest that will surely make your Halloween!!
SHOUT! FACTORY PRESENTS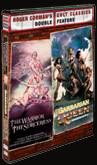 THE WARRIOR AND THE SORCERESS
starring DAVID CARRADINE
-and-

BARBARIAN QUEEN
starring LANA CLARKSON
OWN THIS EXCLUSIVE DOUBLE-FEATURE DVD
FROM SHOUTFACTORYSTORE.COM
BATTLES INTO YOUR COLLECTION ON OCTOBER 19
PRE-ORDER BEGINS NOW!
This October 19, 2010, get ready to embark on two Roger Corman epic action-adventures filled with sword-and-sorcery fantasy, explosive battles and exotic beauties as The Warrior And The Sorceress, starring the late David Carradine, and Barbarian Queen, starring the late B-movie goddess Lana Clarkson, debut as a special double-feature DVD from Shout! Factory, in association with New Horizons Picture Corporation. Featuring all-new anamorphic widescreen transfers, this highly collectible double-feature DVD set is a must-have for movie collectors and fans of Roger Corman, David Carradine and Lana Clarkson. Fans can pre-order now to own The Warrior and The Sorceress/ Barbarian Queen double-feature DVD set directly from Shout! Factory's ShoutFactoryStore.com.
Welcome to a distant world of exciting battles, mystical secrets and evil wizards in The Warrior And The Sorceress. Kain (David Carradine) is the last survivor of a mighty warrior tribe. Once an exalted warrior-priest, Kain now wanders the planet Vra as a mercenary sword-for-hire. In the small village of Yam-A-Tar, he finds two vicious clans struggling for power and becomes embroiled in the treachery and battles, the mighty wizardry and rampant debauchery.
On the eve of her wedding, Amathea (Lana Clarkson) sees her world dissolve: her groom imprisoned, her village razed, and her friends attacked and slaughtered. Becoming the Barbarian Queen, she vows revenge and retribution. Along with her female warriors, she entices and then destroys her adversaries. Barbarian Queen also stars Katt Shea (Psycho III) and Dawn Dunlap (Forbidden World).
THE WARRIOR AND THE SORCERESS (1984)
New World Pictures
Starring David Carradine, Luke Askew, Maria Socas, Anthony DeLongis, Harry Townes
Directed by John Broderick
Screenplay by John Broderick
Story by John Broderick and William Stout
Produced by Frank K. Isaac, Jr.
DVD Special Features:
* New Anamorphic Widescreen Transfer (1.78:1)
* Theatrical Trailers
BARBARIAN QUEEN (1985)
New Concorde Pictures
Starring Lana Clark Clarkson, Katt Shea, Frank Zagarino, Dawn Dunlap
Directed by Hector Olivera
Produced by Frank Isaac, Alex Sessa
Screenplay by Howard R. Cohen
Music by Chris Young, James Horner
DVD Special Features:
* New Anamorphic Widescreen Transfer (1.78:1)
* Theatrical Trailers
Shout! Factory will continue to present ROGER CORMAN'S CULT CLASSICS home entertainment releases on a monthly basis. Upcoming highlights include The Evil/Twice Dead, The Slumber Party Massacre, Not of This Earth, Terror Within, Streets, Angel in Red, Lady in Red, Crazy Mama, Big Bad Mama, among others.

When the Warning Bell Rings – close your eyes if you're squeamish!
JUST IN TIME FOR THIS YEAR'S HALLOWEEN SEASON, SHOUT! FACTORY
SERVES UP THE LONG AWAITED IVAN REITMAN HORROR CLASSIC
THAT WILL HAVE YOU CRAVING SECONDS…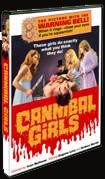 CANNIBAL GIRLS
Directed by Ivan Reitman, Starring Eugene Levy, Andrea Martin and Robert Ulrich
THE POPULAR 1973 CANUCKSPOLITATION HORROR FILM FINALLY DEBUTS ON THE HOME ENTERTAINMENT SHELVES FOR THE FIRST TIME IN THE U.S
Featuring Scrumptious DVD Bonus Content Including
A Conversation with Ivan Reitman and Daniel Goldberg,
Film Critic Richard Crouse Interviews Eugene Levy, Alternate Audio Track Featuring "The Warning Bell", Original Radio Spots and more!
OWN IT ON DVD OCTOBER 26, 2010 FROM SHOUT! FACTORY
Hungry for thrills and high camp this Halloween? SCTV regulars Eugene Levy and Andrea Martin star in the Canadian horror spoof Cannibal Girls as a couple on a romantic holiday who settle into a quaint little bed-and-breakfast run by a trio of flesh-eating ladies who fancy them for tomorrow's menu. Pull up a seat at the table for this delightful feast when this cult horror classic Cannibal Girls, directed by Ivan Reitman, finally makes its way on DVD in the United States for the first time October 26, 2010 from Shout! Factory.
Packed with all-new bonus content featuring, original promotional materials, alternate audio track featuring the cult-famous "warning bell" and all-new interviews with Ivan Reitman, Eugene Levy, and Daniel Goldberg, this DVD further boasts the widescreen presentation of the movie, mastered from the newly restored original film elements. Cannibal Girls DVD is priced to own at $22.97 SRP.
Theatrically released in 1973, Cannibal Girls quickly acquired a reputation as the B-movie concoction of the 1970s. Canadian audiences had never before experienced such a rich blend of camp, gore and comedy. On top of the film's overt B-movie presentation, the producers tore a page from the William Castle book of exploitation, introducing to the theatre-going public the "warning bell" experience: just prior to a scene of particular malice and gore, viewers would be warned by the sound of a bell, at which point they could shut their eyes.
The movie was made on a low budget — $12,000 the duo had to beg and borrow from friends, relatives and some dubious sources — and most of the dialogue was improvised. Despite cost overruns and reshoots, Reitman persuaded American International Pictures (AIP) to distribute the film and it was released in the U.S. in April of 1973 and in Canada that June.
This trashy black comedy, and at-times, surreal film was the first leg in the entertainment industry journey of its director and stars. Ivan Reitman, of course, went on to direct Meat Balls, Stripes, Ghostbusters and Six Days, Seven Nights. Eugene Levy and Andrea Martin went on to fame as SCTV regulars, with Levy going on to star in the American Pie franchise and a host of other films and Martin starring in a variety of TV series and one-woman shows.
DVD SPECIAL FEATURES
* Widescreen movie presentation – mastered from restored film elements
* "Cannibal Guys" – a conversation with Ivan Reitman and Daniel Goldberg
* "Meat Eugene" – Richard Crouse talks to Eugene Levy
* Original trailers and radio spots
* Alternate audio track featuring "The Warning Bell"

You've probably noticed that things have gotten, well, a little scary recently with our DVD releases. August and September alone welcomes the monster-mashed Humanoids From The Deep and the water-and-blood soaked Piranha, along with previous releases Forbidden World and Galaxy of Terror – all under the outrageous Roger Corman's Cult Classics brand. We have even more in store in the future.
To celebrate this wave of blood-curdling madness, we thought it would be fun to offer you a chance to win these titles, plus plenty of other "chills 'n' thrills" in our DVD library.
(1) GRAND PRIZE Package
* Audition (Standard Edition or Blu-ray edition)
* Dark And Stormy Night
* Forbidden World (Standard Edition or Blu-ray edition)
* Galaxy Of Terror (Standard Edition or Blu-ray edition)
* Gamera Vs. Barugon
* Gamera, The Giant Monster
* Humanoids From The Deep (Standard Edition or Blu-ray edition)
* Kingdom Of The Spiders: Special Edition
* Piranha (Standard Edition or Blu-ray edition)
* The Lost Skeleton Returns Again
* The Stepfather (Standard Edition or Blu-ray edition)
Entries must be received by 10/15/2010, and you can enter HERE!