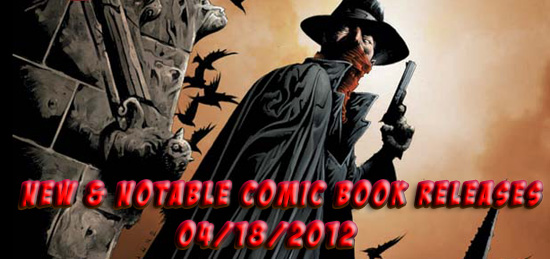 A lighter week this week with only three picks, but my main goal of this article is to reach those not currently totally entrenched in all-things comic books and I only want to choose titles that a newcomer can understand, so I'll be picking mostly new series, new jumping-on points, and trades. While there's certainly a ton of good stuff coming out this week, the majority of it isn't newbie friendly. Still, the three books highlighted this week should be strong ones.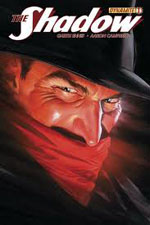 The solo ongoing series I'm spotlighting this week is Dynamite's relaunch of The Shadow property under the watchful eye of Garth Ennis. Dynamite has been successful relaunching older pulp comic book properties in the past, and I have a feeling The Shadow will be the next to join those ranks. There's some questions looming from some whether Ennis is the right fit for writing new Shadow stories, assuming the series is going to be full of cursing, backwoods hillbillies and extreme violence. But the mere fact that the series is staying set in the 1930s should alleviate any worries these people may have. I'd also point out that Ennis has done a lot of work that doesn't fall into offensive, violence-fueled territory (Hitman and Hellblazer, anyone?), it's just the more extreme fare seems to be more popular. Aaron Campbell provides the artwork for the series, and while I've only seen some of his cover work, I think he'll be a good fit as his cover art indicates that he relies heavily on moody shadows and shading. If you dig pulp comic heroes, this is one worth taking a chance on. – THE SHADOW #1 // $3.99 // DYNAMITE COMICS
---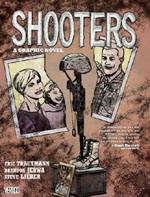 I was pretty bummed when the Vertigo Crime label was retired as it seemed like they saved most of the best stories for last and that more great things could have come. I also really liked the black and white format and the digest sized hardcovers that harkened back to the crime novels of the 40s and 50s. Shooters looks to be something of a spiritual successor to the line, as originally it was announced as a Vertigo Crime title (which had me excited, as this was AFTER the announcement of the line going defunct), but that announcement quietly disappeared and the book is now just your standard Vertigo graphic novel. What it does retain from the line though is the format, and from the synopsis, it sure sounds like it could have originally been intended for the Crime line: "Today's battlefield isn't just about the uniformed soldier in service to his country; there's also the contractor, who answers to the corporation. Call them mercenaries, soldiers-for-hire, or private military operators, they are a new breed of combatant in today's conflicts.SHOOTERS is the story of Terry Glass, a warrior whose spirit and soul has been hardened in countless battles. When a horrible accident shatters his world, Glass finds himself waging a private war on several fronts – against his career, his marriage, and ultimately, his faith." Written by Eric Trautmann (DC's Checkmate and currently writing the super fun Flash Gordon: Zeitgeist for Dynamite) and Brandon Jerwa with art from from the amazing Steve Lieber (Whiteout and the just-released Alabaster Wolves), this should be worthy of attention. – SHOOTERS HC // $22.99 // VERTIGO
---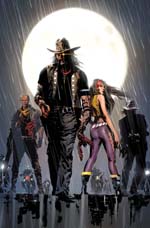 Finally this week is an overlooked mini-series that just wrapped up over at Marvel a couple months ago and is now being released as a trade, Six Guns. It modernizes some of Marvel's old Western characters and puts them in the middle of a war south of the border. If you've never read a book written by Andy Diggle (or you just read some of his Daredevil work, which is better forgotten), he's sort of like the Michael Bay of comics, but if Michael Bay could actually helm an action flick with compelling characters and strong dialogue. You know, something to actually entertain you between the big action scenes (one of which includes a car being driven into a plane, which is just one crazy sequence you'll get here). Six Guns in a lot of ways feels like Diggle's breakout series, The Losers, only with Western characters as the main focal point at the center of all of the conspiracies that are swirling. Artist Davide Gianfelice brings all of the action to life in a cartoony, but very appealing way. While the ending sort of suggests this may have originally been a pitch for an ongoing series that was trimmed down to a mini-series as a test run (and the sales suggest this is all we're going to get), it's still a lot of fun, and if you need a break from all the superhero books out there and want to just read a self-contained, fast-paced story that's a blast from cover to cover, give Six Guns a look. – SIX GUNS TPB // $14.99 // MARVEL COMICS
Feel free to discuss these and all other comic book related topics in our forums by following the link below!