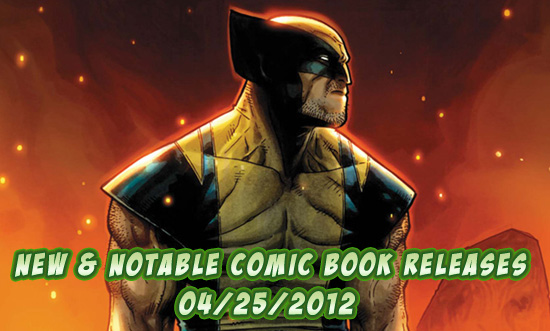 No new series kicking off this week that I feel are worth mentioning, so two new jumping-on points and two graphic novels are highlighted this go around. Read on, fellow geek!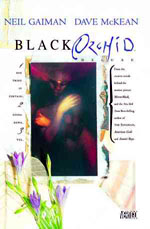 Before Neil Gaiman shot to super-stardom with what many consider the Holy Grail of comics, The Sandman, his first ever work in the U.S. was the reinvention of another quirky character from DC's past, Black Orchid. And what a reinvention it was. Joined together with long-time collaborator Dave McKean, the two took a character that didn't have a strong back-story and was generally relegated to niche cameo appearances, and molded her into a compelling addition to the world of DC's roster of characters that are connected to The Green, a realm which all of the sentient plant elementals have a connection to. And they did this in a matter of three oversized issues. The writing and plot are great and exactly what you would expect from Gaiman, and McKean's artwork is still just as stunning 25 years later. Sadly, as great as this re-invention was, no one was able to capitalize on the mythos and continue the story along in any notable way; the subsequent ongoing series felt like a poor-man's Swamp Thing, and then the character quietly faded into the background again. But there's a reason this mini-series is being re-released: starting next month, Jeff Lemire takes over Justice League Dark, and Black Orchid is slated to be a part of the team. And if anyone can finally build on the potential Gaiman and McKean created for her, he's the man to do it. If you want a jump-start on the character's origins, pick this up. – BLACK ORCHID DELUXE EDITION HC // $24.99 // VERTIGO
---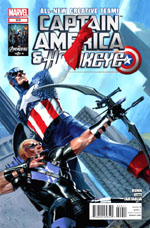 Taking a cue from the recently launched (and very successful) Avenging Spider-Man, Captain America's old numbering (which switched to Captain America & Bucky 9 issues prior to this one) has now become a team-up book reminiscent of the classic Marvel Team-Up title, and if it's half as fun as Avenging Spider-Man is month in and month out, this is one to keep an eye on. I was definitely bummed to see Captain America & Bucky go, but I guess there's only so many stories you can tell that haven't already been told throughout the years (and how many scripts Ed Brubaker can turn in every month), and Bucky fans still get a dose of him every month with the ongoing Winter Soldier. This will also now be a very inviting book to newcomers and fans of the films, as story-arcs will be contained to 2-3 issues and should for the most part be self-contained. Every few issues Cap will team up with a new Avenger or other Marvel superhero, and the initial arc is with Hawkeye (and I suspect the first few arcs will likely stick to other big-screen Avengers), with a script from rising super-star Cullen Bunn (The Sixth Gun) and what should be great artwork courtesy of Alessandro Vitti (Secret Warriors). If you're out of the Marvel U loop, this should be a safe pick-up to start to ease back in. – CAPTAIN AMERICA & HAWKEYE // $2.99 // MARVEL COMICS
---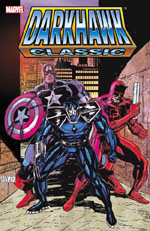 I'm going to preface this pick by saying I have absolutely no idea how this will hold up to those that are new comic book readers and haven't read anything older than 15 or so years in regards to Marvel superhero books. I also honestly don't even know how this will hold up for me, as I haven't read it since it was originally released. What I do know is that I have fond memories of the Darkhawk series, and read it every month when I was a kid. As an adult I've always liked to explore the less-known avenues of comics, film, novels, etc., and even back when I was 10 I liked to mix the popular titles with some stuff that wasn't exactly in the spotlight; I was (and still am) a big fan of lesser-known characters such as Moon Knight, Deathlok, Death's Head, Sleepwalker, Guardians of the Galaxy, and yes, Darkhawk. This volume contains the first 9 issues of the series, which will include the origins of Chris Powell, his discovery of an alien amulet that transforms him into Darkhawk, and his quest to avenge his father's death, among other stories. In recent times the character has been used as a focal points to a couple of Marvel's cosmic epics, such as Reign of Kings. But until then, little was heard from the character. If you're intimidated by the decades upon decades of history some characters have, Darkhawk is a Marvel superhero that isn't weighed down by tons of continuity baggage, so you can jump right in from the beginning and not worry about consuming hundreds of issues to see all of his adventures. Let's just hope Marvel has plans to collect all 50 issues. – DARKHAWK CLASSIC VOL. 01 TPB // $24.99 // MARVEL COMICS
---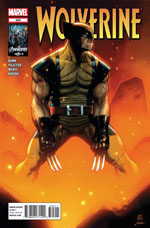 After a nearly three year run with Wolvie, Jason Aaron hands the reigns of the most feral Marvel hero over to Cullen Bunn (who's also writing Captain America & Hawkeye this week). This is being billed as a new jumping-on point for readers, but there was a bit of foreshadowing leading up to this story. But I'm here to help! All you really need to know is there's a character that was introduced a couple years ago called Dr. Rot. Think of him as Marvel's answer to Herbert West, but even more twisted. Well, he's been in Wolverine's brain and Wolvie's starting to black out and see all sorts of weird shit (like talking to a person and then seeing them as a mangled lump of talking flesh). This story arc is apparently a battle over the control of Wolverine's brain. C'mon, tell me that doesn't sound cool? And the biggest plus about jumping on? The book does not appear to be crossing over into the big Avengers vs. X-Men event, at least through issue #309 in July (which is the newest issue that's been solicited as of this posting). I'm trying to introduce people to inviting stories that don't require tons of other books to understand, which is a hard thing to do when it comes to Marvel, but all indications point to this being one of the few. – WOLVERINE #305 // $3.99 // MARVEL COMICS
Feel free to discuss these and all other comic book related topics in our forums by following the link below!