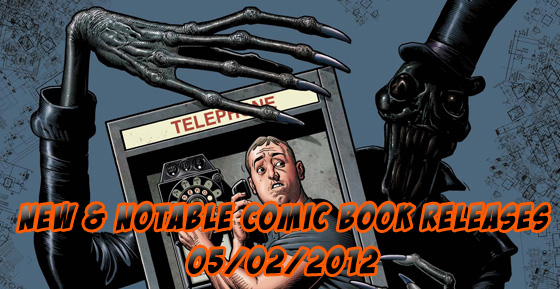 This week's edition features five all new series that kick off this week. Yep, there are five series starting this week that I think are worthy of everyone's attention. And to be honest, there's even a few more than this, so check out your local comic shop to see what other new series are starting off this week. But only after you check out all of these, of course!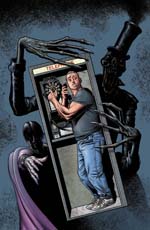 Probably the book I'm most excited about this week, Dial H sees the comic book debut of writer China Miéville, and if you don't know that name, you really should. He's a fantastic writer of twisted fantasy reminiscent of Clive Barker, Neil Gaiman and H.P. Lovecraft. Dial H is one of six books replacing six cancelled titles in DC's New 52, and is the lone new addition to "The Dark" line of books, which is far and away the most interesting group of books DC is publishing these days. Dial H is a quirky old DC property that deals with something called the H Dial, an ancient artifact in the shape of a phone rotary dial that turns whoever possesses it into a superhero. The handful of incarnations of the title throughout the years have always been filled to the brim with imagination, and in the hands of Miéville, that sense of creative freedom should be a treat. The artwork from Mateus Santolouco looks incredible, and the Brian Bolland covers are what you'd expect: Awesome. If you only have $3 to splurge on a new series this week, Dial H gets my highest recommendation. – DIAL H #1 // $2.99 // DC COMICS
---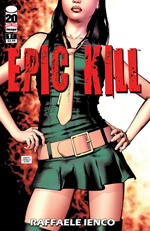 Epic Kill has been floating around for some time, as I initially heard about it over a year ago on creator Raffaele Ienco's DeviantArt page. The pitch is really simple: as a young girl, Song's parents were murdered before her eyes. After years of training, she's now a deadly 18 year old assassins and her exploits have caught the eye of the man responsible for murdering her parents: the President of the United States. Yeah, sounds pretty cool, right? Ienco is sort of unproven in the world of comics, and it'll be interesting to see how his writing skills are, as his artwork is solid. We'll also quickly learn whether he can keep up with a monthly release schedule doing all of the work on his own. Just last year we had the breakout hit The Strange Talent of Luther Strode, which was created by two rookies in the world of comics, Justin Jordan and Tradd Moore. Here's to hoping Epic Kill is this year's surprise from a virtual unknown. – EPIC KILL #1 // $2.99 // IMAGE COMICS
---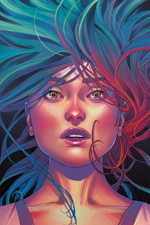 The second new Image released book this week that's piqued my interest is Mind the Gap. I've read a couple previews, and it looks extremely intriguing. It tells the tale of Elle Peterssen, who is mysteriously attacked on a Manhattan subway platform and left in a coma. Thing is, while her body isn't dead, her spirit has already left her body. And she has no recollection of what happened to her; it's all locked in her physical brain. The preview I read was about 10 pages and already was building tons of mystery, including casting doubt on those in her family, weird cell phone calls, and the introduction of an enigmatic hooded man. While Jim McCann has built himself a strong reputation as a good writer, I think a lot of people are excited about Mind the Gap marking the debut of Rodin Esquejo on interior art for a monthly book. If you don't know the name, take a look at a couple of covers for Morning Glories. You're excited now, right? If the preview is any indication, Mind the Gap is going to be one of the most beautifully drawn books on the rack every month for the foreseeable future. – MIND THE GAP #1 // $2.99 // IMAGE COMICS
---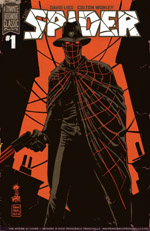 After last month's relaunch of The Shadow, Dynamite is at it again with yet another pulp hero revival, The Spider. To be honest, I don't know a lot about the Spider as a character outside of some blurbs I've read hyping this series. What I'm excited about is that it's being written by David Liss. The man knows pulp heroes. His run on Black Panther: The Most Dangerous Man Alive was great and woefully underrated. And his retro Marvel mini-series last year, Mystery Men, was excellent and again sadly mostly ignored by the public at large. If The Spider turns out half as good as either of those, this is going to be a very fun book for fans of pulp/noir superhero stories. From the Dynamite released blurbs, the Spider sounds a lot like what could have been the inspiration for Batman, a wealthy industrialist that is tired of seeing his city destroyed by violence and takes a stand. What makes the Spider different though is he'll use the same level of violence and barbarity against his enemies. Artwork comes courtesy of Colton Worley, who I'm not really familiar with, but the handful of preview pages I've seen for this first issue really impressed. – THE SPIDER #1 // $3.99 // DYNAMITE ENTERTAINMENT
---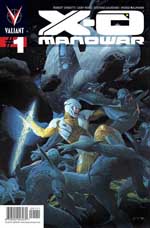 Finally this week is the first book in the relaunch of a comic book company that anyone that read comics in the 90s will know all about: Valiant. Valiant is one of the reasons for the comic book boom of the 90s. Their titles became super hot, and for a couple of years, they were nipping at DC and Marvel's heels. They weren't just "another" indie label looking to cash in. They pretty much invented the idea of variant and gimmick covers, and while we may not want to thank them for that, the simple fact is out of all of the comic book companies that rose to prominence during that era, Valiant easily had the strongest roster of characters and created a wealth of story history. It was a shame that they were so heavily affected when the comic book bubble burst in the late 90s and all of their properties were forced to be shoved in the back of a drawer somewhere, but they're ready for a comeback. And kicking things off is what I'd personally call their most compelling character and universe, X-O Manowar. Imagine a primitive like Ka-Zar in Iron Man armor fighting waves of spider aliens, and you'll get an idea of what to expect. The original stories were rich in not only early human history, but also told some great sci-fi tales, and this new incarnation sounds as if it'll stay along those lines. Writer Rob Venditti (The Surrogates) and artist Cary Nord (Daredevil, Conan) have been given the task of reviving and breathing new life into the character, and if this relaunch turns out anywhere near as good as the shockingly good Extreme relaunch over at Image has been, we're going to have another line of great monthly comics to add to the pile. – X-O MANOWAR #1 // $3.99 // VALIANT
Feel free to discuss these and all other comic book related topics in our forums by following the link below!