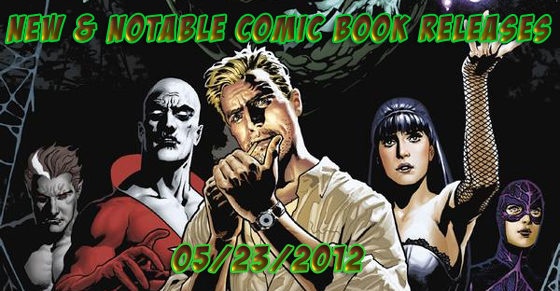 Sorry for the skipped article last week, I've sort of been a bit like a PMS'ing woman of late with my moods as I've been losing my mind looking for a job, but I've found doing this takes my mind off of the possibility of impending financial doom, so I'm back! And now that I've made you feel like shit, I'll tell you how to spend you comic book dollars this week!! You're welcome.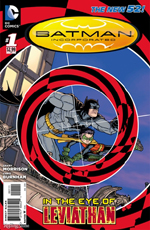 Hopefully you took my advice from about a month ago and picked up the Batman Incorporated HC I recommended, as that will put you in a great position to pick up and fully grasp the new ongoing Batman Incorporated series that debuts this week. I've said too many times to count how much I detest Grant Morrison's run on Batman, but it finally started to click for me with Batman Inc. Hey, better late than never, right? Anyway, I'm keeping my fingers crossed this keeps up the same type of style and quality as the first run before the launch of the New 52, and Chris Burnham's art will certainly deliver the goods. As long as Damien doesn't annoy the hell out of me like he tends to do on occasion, this should be a nice addition to the (very) large family of Batman books at DC. "BATMAN, INCORPORATED makes its NEW 52 debut with an all-new first issue! The series hits the ground running as BATMAN and ROBIN face off against the assassin GOATBOY! LEVIATHAN'S sinister mission revealed!" – BATMAN INCORPORATED #1 // $2.99 // DC COMICS
---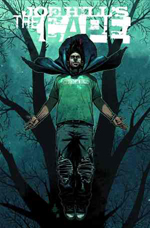 Based on one of my favorite short stories from the past 10 or so years, Joe Hill's The Cape is a twist on the superhero genre that really hits with a hammer. I'm rarely surprised at "big reveals" in prose, but Hill's short story that sparked this original mini-series did just that. Included here is the one-shot adaptation of the short and then all four issues of the mini-series continuation. And the good news is if you like this as much as I did, there's more on the horizon. Solid writing, very good stylistic artwork, and strong characters are some of the book's highlights. "Every little boy dreams about putting on a cape and soaring up, up, and away… but what if one day that dream were to come true? Eric was like every other eight-year-old boy, until a tragic accident changed his life forever. The Cape explores the dark side of power, as the adult Eric – a confused and broken man – takes to the skies… and sets out to exact a terrible vengeance on everyone who ever disappointed him. This critically acclaimed, Eisner-Award nominated story, written by Jason Ciaramella, based on the short story by New York Times bestselling author Joe Hill, with art by Zach Howard and Nelson Daniel, will linger with you long after you turn the last page, and force you to ask yourself the question: 'What if?'" – JOE HILL'S THE CAPE HC // $24.99 // IDW
---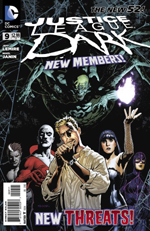 One of the titles I was most excited about when the New 52 was announced was Justice League Dark. Just look at the roster of characters: John Constantine. Madame Xanadu. Shade, the Changing Man. Deadman. Zatanna. Enchantress. And as much as I have enjoyed the series thus far, I always felt there was something missing and it didn't live up to the lofty expectations I had set for it. Something tells me that's about to change. With this issue, wunderkind writer of all that is dark and bizarre, Jeff Lemire, comes on as regular writer, shakes up the cast, and I'd almost bet the farm he knocks it out of the park. The superstar team book of DC's dark heroes is about to live up to its potential. "New series writer JEFF LEMIRE introduces a new team roster and a new mission! Featuring JOHN CONSTANTINE, ZATANNA, DEADMAN, BLACK ORCHID and more! Constantine and the team must steal a map to the source of all magic out of the clutches of FELIX FAUST! The first of a four-part story that will have lasting implications for the entire DC Universe." – JUSTICE LEAGUE DARK #9 // $2.99 // DC COMICS
---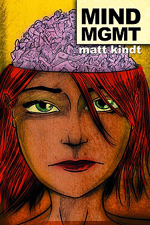 Speaking of Jeff Lemire, his partner in crime from Sweet Tooth, Matt Kindt, kicks off a new ongoing series at Dark Horse this week called Mind MGMT, and if his previous work and the lead-up digital preludes are any indication (which you can get HERE), this is going to be a hell of a series. Kindt does it all, just like Lemire does on the bulk of Sweet Tooth issues, and his work has just the same sort of quirky, captivating charm. Hopefully this is the series that breaks Kindt out of Lemire's shadow and makes him into a comic creator superstar in his own right. "Matt Kindt, the most original voice in genre comics, outdoes himself in this bold new espionage series! Reporting on a commercial flight where everyone aboard lost their memories, a young journalist stumbles onto a much bigger story, the top-secret Mind Management program. Her ensuing journey involves weaponized psychics, hypnotic advertising, talking dolphins, and seemingly immortal pursuers, as she attempts to find the flight's missing passenger, the man who was Mind MGMT's greatest success-and its most devastating failure. But in a world where people can rewrite reality itself, can she trust anything she sees?" – MIND MGMT #1 // $3.99 // DARK HORSE
---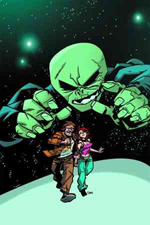 Xenoholics was a series I really fell in love with late last year, but it just didn't seem to catch on the way a lot of other similar books at Image do. If you're a fan of Image's smash-hit Chew, and you like aliens, there's absolutely no reason not to read Xenoholics. It's funny, unusual, has excellent cartoonish artwork and killer dialogue. Because of the lower sales, the series, which was originally announced as an ongoing, was switched to a mini-series, with a vague hint at possible additional mini-series that build on the story down the line. Something tells me the sales of this collection are going to go a long way into deciding whether any of those other mini-series ever see the light of day, so be a bro and check this out. Not just for me, but for yourself. I say with full confidence you'll enjoy it. "Are you addicted to aliens? Late night encounters? Abductions? Probes? Then become a member of Xenoholics Anonymous! Members of a support group that claim to be victims of alien abductions try to solve the mysterious disappearance of the Doctor who led their group but find themselves involved in a larger conspiracy. X-files and Fire in the Sky meet Chew in this exploration of the xenoholic subculture." – XENOHOLICS VOL. 01 // $14.99 // IMAGE COMICS
Feel free to discuss these and all other comic book related topics in our forums by following the link below!