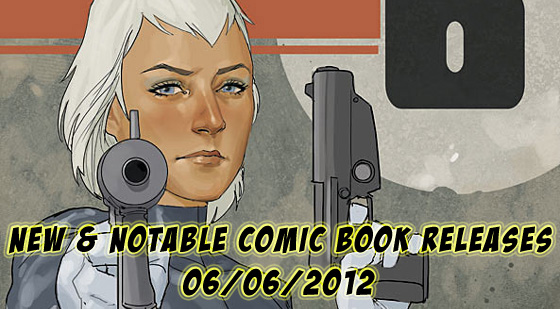 The flu bug bit last week, so I didn't get an article up, but no worries as it was a 5th week and there wasn't a ton of stuff. The only real recommendation I wanted to make that I'm a bit sad I didn't get to is Grim Leaper #1, but it didn't appear to be quite as popular as some other Image debuts, so you should still be able to pick up a copy at your local comic shop. It's from Kurtis J. Wiebe, writer of Green Wake, The Intrepids and Peter Panzerfaust, and deals with a lost soul that keeps being transported into a new stranger's body every time his previous host dies, usually in an extremely violent fashion. Sounds like a laugh a minute, right?! Check it out. Lots of new series kicking off this week, so let's dig in!
Set off the alarms, call 911, I'm recommending a Before Watchmen mini-series! Lost in all of the controversy is the fact that these mini-series are being done by a who's who of comic book talent. And seriously, not one will affect the quality of Moore's original story. It's just as easy to ignore them and act as if they don't exist as it is to bitch and moan until you lose your voice (or develop carpal tunnel). By far the most intriguing to me is the book that's kicking things off, and it's likely a smart move by DC to do so as I have a feeling this is going to sway some people. It's a new Darwyn Cooke comic, it's set in the 40s, and is sure to be pulp hero greatness. This should be the least offensive to any of the naysayers, since it deals with the Minutemen group which was a backdrop to the original series, not a focal point. I think some people should swallow their pride and give this a look, as anyone willing to ignore a Darwyn Cooke comic based on some sort of principle that has very little bearing on your own personal life is pretty damn silly. Worry about your own problems and let cranky Alan Moore deal with his. The only issue I have with this is the fact that DC is charging a premium of $3.99 for a book that has the normal 32 pages. Please let this not be a sign of things to come for DC "events". "Little did we know that poor boy would lead to the end of us all. Plus: Don't miss the CRIMSON CORSAIR backup story by writer LEN WEIN and artist JOHN HIGGINS!" – BEFORE WATCHMEN: MINUTEMEN #1 // $3.99 // DC COMICS
---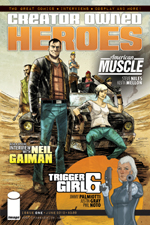 Image jumps into the anthology game with Creator Owned Heroes, a book that, if successful enough, could become much like their answer to Dark Horse Presents on a smaller scale. The format, at least for the initial issues, will be 40 pages that includes two separate all-new stories plus an interview, convention coverage, and articles. The first issue includes an interview with Neil Gaiman, which is likely enough for some people to snap this up, but for me it's all about the lead story, Triggergirl 6 by Jimmy Palmiotti, Justin Gray and Phil Noto. I'd buy this if it was its own comic. But with all of the other goodies, including American Muscle by Steve Niles and Kevin Mellon, this is a no-brainer. We could see a lot of creative and unique stuff come out of this series in the months and years to come. "AMERICAN MUSCLE, Part One by STEVE NILES & KEVIN MELLON: The world ended a long time ago. How it happened exactly and what exists in the wasteland have always been a mystery. Now Chloe, Gil and a gang of rebels have escaped the last human stronghold and are blazing across Post-Apocalypse America in search of paradise. — TRIGGERGIRL 6, Part One by JIMMY PALMIOTTI, JUSTIN GRAY & PHIL NOTO: In this sci-fi thriller, the sixth in a series of genetically modified assassins born in a secret laboratory sets her sights on the ultimate target. But what happens when the perfect killing machine takes a personal interest in her target only to uncover a conspiracy that may change the fate of the entire human race? — PLUS! An interview with NEIL GAIMAN! Triggergirl cosplay! Con photos! And original articles all celebrating the creator-owned spirit of independence!" – CREATOR OWNED HEROES #1 // $3.99 // Image Comics
---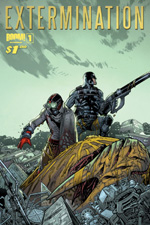 Time for another $1 debut issue from BOOM! Studios, and while like Higher Earth last month this is another sci-fi offering, Extermination should prove to be an altogether different beast. From the mind of Simon Spurrier, whose credits include a ton of great sci-fi tales in 2000AD and Judge Dredd, and artist Jeffrey Edwards, a newcomer to the comic scene, Extermination looks like it's going to be filled to the brim with alien hunting, end of the world survival scenarios, mad scientists and snappy Spurrier dialogue. Just like with Higher Earth, do I REALLY need to sell you on spending a buck for a comic? Give it a look, you literally have nothing to lose but the change and lint in your back pocket. "We Lost. They Won. In the wake of an apocalyptic alien invasion, the world's greatest super-heroes and deadliest super-villains must form an alliance to prevent their own extermination. Two arch-enemies, Nox, a driven hero, and Red Reaper, a ruthless villain, form a volatile partnership for the greater good. The enemy of your enemy is your friend – but will they be able to ultimately put aside their bitter past to prevent global genocide? What happens when all the battle lines are redrawn and foes become unlikely allies in a desperate war for the fate of the very planet – and the outcome of a species? Written by Simon Spurrier (X-Club, Fear Itself: The Home Front, Wolverine: Dangerous Games), Extermination is a superhero survival story by an author that boldly explores the dark crevices of an entire genre." – EXTERMINATION #1 // $1.00 // BOOM STUDIOS
---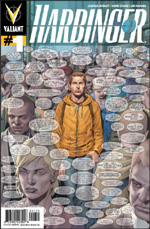 The Valiant rebirth continues, and this month we get the first issue of the re-imagined Harbinger. The Harbinger of old had some very cool themes, which dealt with teenagers with psionic powers that could literally reshape history. Think New Mutants or Teen Titans on a much more apocalyptic scale. The relaunched title appears to not change the formula very much, and what really has me excited is seeing Joshua Dysart, the amazing scribe behind Vertigo's woefully under-appreciated Unknown Soldier, will be the man steering this ship going forward. Oh, and Khari Evans is doing the art. Go Google Carbon Grey and look at the artwork. You'll know why I have a strong feeling this one is going to not only read well, but be a feast for the eyes as well. If this is half as good as last month's X-O Manowar, it'll be a treat. "The return of the Valiant Universe continues as the first superhero legend of the modern age is reborn, from New York Times bestselling author Joshua Dysart and Harvey Award-winner Khari Evans. Read Minds, Bend Steel, Break All The Rules Teenager Peter Stenchek is out of work, on the skids, and — unbeknownst to him — a psionic-powered 'Harbinger' with the potential to reshape the course of human history. Toyo Harada is a wealthy business magnate, a respected philanthropist, and the most powerful Harbinger of all — or so he thought. As they forge an uneasy alliance, will Harada offer Peter a chance for redemption — or attempt to induct him into a secret network of conspiracy, subversion, and control? Peter is about to discover that he's not alone in the world, and soon the generation who has nothing will take on the man who has everything." – HARBINGER #1 // $3.99 // VALIANT
---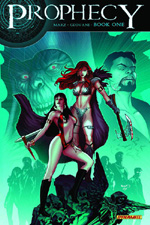 Finally this week is Dynamite's first ever epic crossover event, Prophecy. Although before the word "crossover" has you running for the hills, it's not what you think. You won't have to buy a ton of auxiliary issues to understand it, it's completely self-contained. It's a crossover due to the fact that it brings together a ton of the classic characters that Dynamite publishes and have returned to prominence over the last few years, including Red Sonja, Vampirella, Herbert West (yes, THE Re-Animator!), Pantha, Athena, Dorian Gray, Dracula, Alan Quatermain, and more! Sounds like a ridiculous proposition, but the reason I have faith is it's written by Ron Marz, a guy I've been a fan of since the 90s and he was actually able to pull off something very similar in Artifacts for Top Cow, which brought together all of their properties into a self-contained epic. Lightning very well could end up striking twice. "In 2012, the Mayan doomsday prophecy is coming to pass, and the end of the world makes for strange allies. Vampirella, Red Sonja, Kulan Gath, Dracula, Eva, Herbert West The Re-Animator, Alan Quatermain, Athena, Dorian Gray, Purgatory, Pantha and many more choose sides and clash in battles that will decide the fate of the Earth and all of mankind. Will the forces of good be able to stop the end of days? Or will an army of darkness rise? A seven-issue, SELF-CONTAINED event! That's right, fans, no spinoffs, no add-ons, just seven issues of all out, apocalyptic warfare! Be there for the first crossover spanning the Dynamite line…before it's too late! DYNAMITE'S MOST POWERFUL AND AMBITIOUS CROSS-OVER EVER!" – PROPHECY #1 // $3.99 // DYNAMITE
Feel free to discuss these and all other comic book related topics in our forums by following the link below!