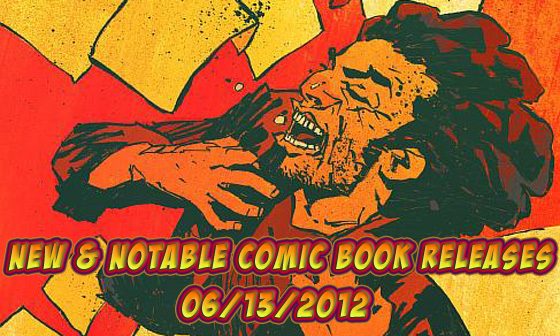 Some good stuff hitting the stands this week, but again I've ignored the graphic novels and went with all monthly issues. Guess it's a sign of the success and health of the comic business currently that there are so many solid new series and jumping-on points every week. There's literally something for everyone this week, so let's take a look at what I think you should be reading!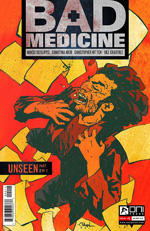 Bad Medicine debuted on Free Comic Book day last month, as Oni Press offered up the entire first issue for free. I was lucky enough to snag a copy and this looks like it could be a very strong slow-burn police procedural with some strong macabre elements. If you didn't score a copy on FCBD, Oni Press is releasing the issue this week for purchase, right along with the second issue which will close out the first storyline. This is a new ongoing, written by the husband/wife team of Nunzio DeFilippis and Christine Weir (New Mutants, New X-Men: Academy X) and illustrated by Christopher Mitten (Wasteland). DeFilippis has worked in the past collaborating with Greg Rucka (who is almost second to none writing in this genre), and that definitely shows in this book. If you dig a good crime/investigation comic, don't let this one pass you by. "Pulled out of exile from a dark corner of the world, renowned-surgeon-turned-fringe-medicine-eccentric Doctor Randal Horne must return to New York City to investigate a tragic research lab accident that's left one man dead, and inexplicably headless. Now with the help of a distrusting NYPD detective he must diagnose whether this strange case was truly a random act of misfortune or the first calculated move by an invisible psychotic murderer." – BAD MEDICINE #1 & 2 // $3.99 each // ONI PRESS
---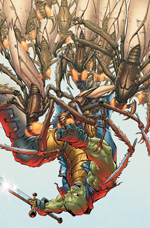 If you've read this weekly column with any regularity, you'll know I sort of have a bit of a fanboy hard-on for all-things involving Jeff Lemire and Matt Kindt. With Lemire going over to Justice League Dark last month, he's passed on writing duties for Frankenstein: Agent of S.H.A.D.E. to his partner-in-crime Matt Kindt, and I expect the results to be pretty damn awesome. If you haven't been following this book, shame on you, as it's a ton of monster-mash fun, but outside of picking up the trade for the first seven issues (which comes out next week, *hint, hint*), this should be a great jumping-on point as it starts a new story arc. If you like the idea of old school Universal monsters fighting for the government against all sorts of bizarre adversaries, you need this book in your life. Alberto Ponticelli's artwork is damn fine to look at too. "SATAN'S RING begins here! FRANKENSTEIN and THE CREATURE COMMANDOS must investigate suspected double-agents in SHADE field offices. Their first stop is the UNTROPOLIS – an exact copy of Metropolis that floats upside down in the 4TH CLOUD above Superman's home town." – FRANKENSTEIN: AGENT OF S.H.A.D.E. #10 // $2.99 // DC COMICS
---
A new ongoing series from Brian Wood? Do I really need to sell it? Well, how's a post-apocalyptic story revolving around environmentalists whose sole purpose in life was saving the planet that are now trying to adapt to a planet that's already lost sound? And how about watching them traverse a barren wasteland while dealing with pirates, groups of homicidal killers and savages that are in their way? If you've ever read anything from Brian Wood, you'll know full well those ideas in his hands should be solid reading. And then there's Kristian Donaldson's artwork, whose work is just as complimentary to Wood's scripts as Becky Cloonan's is. And if you still need convincing, maybe check out the 99 cent digital one-shot that collects the prequel stories from Dark Horse Presents. You can get that HERE. Don't miss this book, it should be a big one. "In a post-war, post-crash, post-disaster, post-everything world, the environmental-action trawler Kapital scours the earth's oceans for its mysteriously missing sister ship, The Massive. Captain Callum Israel, a man who has dedicated his life to the ocean, now must ask himself-as our planet dies-what it means to be an environmentalist after the world's ended. Callum and his crew will come up against pirates, rebels, murderers, and thieves as they struggle to remain noble toward their cause. Can you save a planet that's already doomed?" – THE MASSIVE #1 // $3.50 // DARK HORSE
---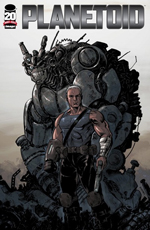 What would one of these columns be without a new #1 book from Image Comics? Planetoid though has a very cool story behind it. Originally self-published on Graphicly just a handful of months ago, the big-wigs at Image were so impressed they snatched up the rights, decided to publish the first issue in physical form, and wanted all future issues all to themselves. And did I mention the book is done by just one guy named Ken Garing? Talk about a fairy-tale story. While I haven't read the first issue yet (my copy is on the way!), it looks in-line with the recently re-launched Prophet, which is a hell of a good book. If one post-apocalyptic book isn't enough for you this week, add the more sci-fi heavy Planetoid to your pull-list too. Any aspiring writers/artists that are looking to break into the comic book industry should support this too given the circumstances. If this book does well, I could see companies looking more at acquiring self-published digital comics more than ever before. "Silas, an ex-soldier turned space pirate, finds himself stranded on a mysterious planet in alien territory. As he explores the long-abandoned industrial ruins of the planet's surface he will have to fend off rogue mechanical creatures, roving cyborg militias, and a hostile alien military with a bounty on his head. Silas will have to rely on resourcefulness and bare-bones survival tactics in order to stay alive and ultimately unlock the secrets of a planet where survival is a luxury and escape an impossibility." – PLANETOID #1 // $2.99 // IMAGE COMICS
---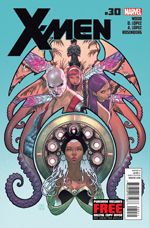 What's better than one new Brian Wood ongoing series in one week? How about two? Brian Wood takes over writing duties on X-Men with this issue, and I'm definitely interested in seeing how this book turns out. Outside of Uncanny X-Force and X-Factor, the X-titles are the one area of Marvel that I've yet to get myself current on. Regardless of that, I can tell you for sure I'm jumping on this book now ASAP. I've heard some pretty bad things about the previous 29 issues (Jubilee, a vampire? WHA…?!), but a birdie whispered in my ear the quality level of this one is about to jump up a few notches. Since I'm not super familiar with current X-lore, the idea of another security/covert team sounds reminiscent of Uncanny X-Force and Secret Avengers, but I'll give Mr. Wood the benefit of the doubt that he can do something fresh with a team archetype that already exists in a few forms throughout the Marvel U. Then again, I could be wrong and this team could have very little in common with the aforementioned ones. David Lopez (Hawkeye & Mockingbird, the early 2000's Catwoman run) will provide the artwork. "A new race of mutants has been discovered? What does this mean for the X-Men?" – X-MEN #30 // $3.99 // MARVEL COMICS
Feel free to discuss these and all other comic book related topics in our forums by following the link below!