Irvin Kershner might best be known as the acclaimed director of The Empire Strikes Back, a classic milestone in sci-fi/fantasy that many consider to be the best installment of George Lucas' Star Wars franchise, as well as one of the top best sequels ever made. Eyes of Laura Mars was his previous feature. The film was a bigger hit in the box office than it was with the critics. While I felt it was rather flawed, I still found it to be an entertaining and exceptional American take on the giallo genre.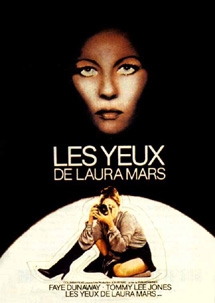 Anyone who is familiar with the genre already knows of its notoriety. Unfortunately, by the time Laura Mars premiered in 1978, many giallo films had made their mark and American critics were already growing tired of the lackluster "woman-in-trouble" scenario. Because of this, the film was regarded as a mediocre thriller. While I didn't find it to be that original, as well as a few scenes that I feel could have been executed better, I still found the plot and film altogether to be an enjoyable and entertaining experience.
The plot has a nice hook to it, especially for a giallo: Laura Mars (the beautiful Faye Dunaway) is a successful yet controversial Manhattan fashion photographer who has gained infamy for her model pieces depicting acts of violence and murder. Art critics, as well as the public find her work to be either uniquely alluring, or degrading and downright unpleasant. What drives the story is that Laura seems to have a sort of on-and-off psychic connection with someone. This connection causes her to have the ability to see through this other person's eyes. This mystery person also happens to be a maniac serial killer who is on the loose in New York City.
This killer has begun terrorizing the fun-loving people of New York's art scene, specifically those who are business associates of Laura Mars, which, of course creates even more controversy surrounding the photographer. When she tries to convince the police that she can see what the killer is seeing, they are obviously quick to dismiss her. The only detective who is sympathetic towards her is the likable, cool-headed Lt. John Neville (Tommy Lee Jones in an early role). Lt. Neville is one of the investigators in charge of finding and catching the killer and, while he is more open to hearing Laura's claims, he still is as skeptical as his fellow detectives and officers.
By the time Laura begins to realize the suspect may be someone closer to her than she wants to believe, before long she finds herself being stalked by the killer, and that no one around her is safe. Soon enough, we the viewers find ourselves asking throughout: "Just who is the killer and who's next on their list?"
The film is completely reminiscent of the giallo films of director Dario Argento. While I felt that the lack of originality blemished Laura Mars, I also enjoyed it, and admittedly was looking forward to seeing an American take on the genre, especially one that takes place in New York City of all places. New York City always seemed to me to be the perfect backdrop for a giallo and I felt that this film did a great job of really taking advantage of its on-set location with some truly memorable sequences.
The most obvious type of audience I would recommend this to is giallo fans, especially of Argento's work, such as Tenebre and The Bird With Crystal Plumage. Like said films, Laura Mars is a mystery-oriented thriller with that consistent Argento-like first-person-view-killer wreaking havoc amongst the friends and associates of the titular character, while Laura tries desperately to protect the people in her life.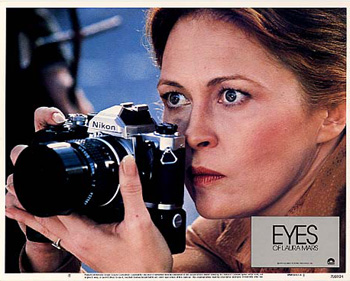 Like I said, this is what gives the film a sort of gift/curse value; it is very Argento-reminiscent which is fun to take in, yet, it also carries those same cliché's of the Argento giallo. By the same cliché's, I mean: the killer's first-person-view; the killer's method of stalking the characters; the artistic protagonist who witnesses the first murder that the film takes attention to, which causes her further involvement within the story; how this protagonist finds herself stalked by the psycho killer, and not to mention the somewhat uninspired who-done-it scenarios.
I will give Irvin Kershner credit though, for his impeccable directing skills. It's a shame he never found much success after Empire. He must have picked a handful of bad choices I guess. Either way, Kershner truly captured the essence of New York City while filming Laura Mars, and frankly it is one of the film's most attractive aspects, aside, obviously, from the beautifully elegant Faye Dunaway. Oh, how I love Faye. I find her to be one of the most desirable actresses of all-time. Don't even get me started on her legs…
The acting is all top-notch. I think the only characters that pissed me off were the models, but I find it easy to let go of, since they seem like the kind of characters that are supposed to annoy a guy like me. Faye Dunaway and Tommy Lee Jones headed a great cast, including Brad Dourif, René Auberjonois and Raul Julia. Their performances may not be that memorable, but still were overall satisfying. My personal favorites, aside from Faye, were Tommy Lee Jones as Lt. Neville, and René Auberjonois as Donald Phelps, Laura's flamboyant agent and close friend. Both actors delivered and were entirely convincing in their roles. I'm not really a big fan of Jones, but I found this to be one of his best roles. He did a great job in his portrayal of the charming yet reserved Neville.
As for Faye Dunaway, I'll keep it short and sweet: She's one of the sexiest women ever, she is a very talented actress and I love her in practically every film I've seen her in.
Bottom line: If you're a fan of giallo, are in the mood to see a 70's thriller set in New York City, or are just a sucker for Faye Dunaway and those sexy legs of hers, then I highly recommend you see this film. It's in no way a masterpiece; riddled with flaws and unoriginal scenes throughout. I still thought Eyes of Laura Mars was an overall enjoyable film experience, and though I won't go as far as to call it a classic, believe it still deserves a spot on the list of underrated films of the 70's that are worth seeing.
Please feel free to discuss "The Eyes of Laura Mars" here, in our forums!