While Pinky Violence has cracked into the US conscious over the past few years, the genre in which it was born out of, Pink Eiga, is one that has remained relatively hidden and misunderstood by the masses. PINK EIGA, an upstart DVD company based out of Los Angeles, CA with a real passion for Pink films is looking to change that. With four releases already available via their website and places like Amazon, and with over 300 films licensed, they're looking to make a big splash with those already accustomed to the pleasures the genre offers and open up some eyes along the way as well. Infini-Tropolis had the opportunity to ask PINK EIGA co-founder Ayumu Oda some questions about the company and the genre as a whole, and we here at Infini hope this piece helps along their crusade to bring Pink Eiga to the population at large.
INFINI-TROPOLIS: Could you give a quick overview of the Pink Eiga genre for those unfamiliar with it?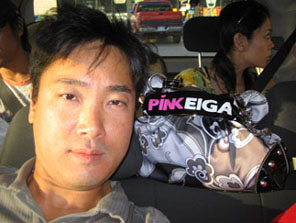 AYUMU ODA: "Pink Eiga" (aka Pink Film) is a short-form, independently produced, erotic movie popular in Japan. Shot on 35mm film with high production values and artistry, these films run the genre gamut including comedies, romantic dramas, exploitation movies and horror. Having been in constant production since the 1960's, Pink Eiga constitutes one-third of all films produced in Japan each year. Even to this day, their productions adhere to a traditional form of filmmaking: they are shot on 35mm film, edited on flatbeds with analogue sound design, and are theatrically released in triple-bills (since each film's run time averages 60 minutes). Interestingly, Pink Eiga has provided a fertile proving ground for a number of award winning filmmakers, who were able to hone their skills of the craft in this independent and creative genre. These include, internationally renowned directors Masayuki Suo (Shall We Dance), Kiyoshi Kurosawa (Cure), and of course, Yojiro Takita (2009 Academy Award winner for foreign film Departures) who took his first steps as a filmmaker on Pink Eiga films during the '80s.
INFINI: Your release schedule so far has consisted of two films at a time, one being a classic and one being more modern. Is this a pattern you hope to continue?
AO: We don't really distinguish a classic film from a modern one. From 350 movies in our library, we would like to introduce the Pink Eiga movies which would be matched to the taste of the current international market.
INFINI: In a blog on your MySpace page, you said that your first two releases, S&M Hunter and New Tokyo Decadence: The Slave, have sold better than anticipated. Do you see that as an encouraging sign for the company when people are so strapped for cash these days?
AO: I think it will be the best time for us to release Pink Eiga in the international market. Nowadays there is much more acceptance to foreign movies. The audience rate for Japanese cinema is especially increasing. The growing popularity of Manga and Anime exposes Japanese culture to wider audiences and helps people discover the gem that is Japanese cinema.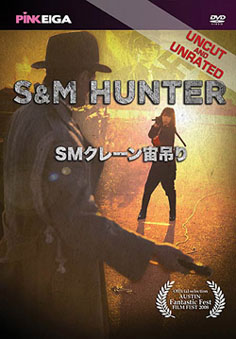 INFINI: Your press kit states you've licensed over 300 films, with 15 more being added every year. With such a large pool of films to choose from, how do you go about deciding which to release first?
AO: We would like to introduce whatever matches to the current taste. Pink Eiga has a variety of genre: comedies, romantic dramas, exploitation movies and horror. We would like to start with showing the entire scope of this genre as much as possible. To the point, the first 4 titles which we released come from various genres: S&M, Drama, High School Girl and Action. We're currently working on several new releases which include a comedy, a fantasy film and a vampire movie!
INFINI: Thanks to PINK EIGA, Pink films have been screened over the past year at various film festivals around the US. Do you think that's a sign that the US market is finally ready to accept films of this nature and take them seriously as legit filmmaking?
AO: Pink Eiga is probably the most misunderstood film genre! To most, it's simply "Japanese Softcore Porn". I'm glad we've had the good fortune of meeting many people who can also see the cinematic qualities behind these films - the great acting and cinematography, the fact that they're all shot on film, etc. We've played 4 of our films in film festivals in the past half year, and have received offers to attend 5 more in the next several months (including the prestigious NYAFF festival and the European BAFF festival). Festival acceptance is very important to us - it proves that what we're doing has an artistic quality as well.
INFINI: What would you say to someone who thinks Pink films are nothing more than softcore trash?
AO: I too used to be one of those who misunderstood Pink Eiga and thought it was just a porn video! Watching actual Pink Eiga would completely change audience's minds. You can immediately see that these are more than "skin flicks". One of the biggest jobs which we hold is to get rid of prejudice and misunderstanding about Pink Eiga from many people.
INFINI: Koji Wakamatsu is one of my favorite filmmakers, and I find it a real shame that his films aren't available in the US. Go, Go Second Time Virgin and Ecstasy of the Angels were available at one time, but are now OOP, and Ecstasy of the Angels wasn't treated very well and the film reels weren't in the right order. If the company proves to be financially successful, would you ever consider going back and licensing any of Wakamatsu's films, or any influential 60's Pink films like Tetsuji Takechi's Day Dream?
AO: If our business is successful, it could be possible. Wakamatsu is a legend even in Japan. We're hoping to successfully promote the Pink Eiga brand, and use that as a vessel to introduce various titles, such as Wakamatsu's to our loyal fan base.
INFINI: Do you think you'll ever be interested in licensing any unreleased Pinky Violence films?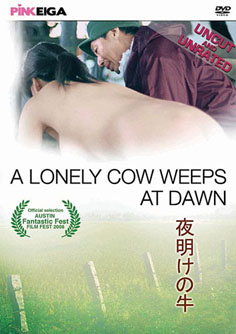 AO: Pink Eiga films are produced by independent production companies with a certain budget. Major production companies such as Toei and Nikkatsu imitated Pink Eiga style and produced Pinky and Roman Porn. Our company, Pink Eiga Inc., was established to introduce the pure essence of Pink Eiga. At this time, we would like to focus on releasing the original Pink Eiga to the international market. I'm not saying we will NEVER license Pinky Violence films - but we still have 346 films on our list that come first...
INFINI: What film(s) do you think would be best suited for someone looking to get into the Pink genre for the first time?
AO: It really depends on the viewer! We thought everybody would enjoy S&M Hunter, but some people prefer New Tokyo Decadence: The Slave. We guessed A Lonely Cow Weeps At Dawn could be a little difficult for American audiences but the sales are actually very good. In their own way, each of our 4 titles is a good film to start with - Sexy Battle Girls and S&M Hunter for the vintage and campy comedy style, New Tokyo Decadence and A Lonely Cow Weeps at Dawn are really good dramas, and yet very Japanese - different in so many ways to what most people are used to!
Of the first 4 titles we have out, my personal favorite is New Tokyo Decadence: The Slave. It is a very good drama, shot well, with very current editing techniques and excellent acting. This film recently played in the SF indie fest, and was received very warmly by the audience there.
INFINI: Are there any current Pink directors that you personally feel have the potential to break into the mainstream like Kiyoshi Kurosawa and Yojiro Takita have?
AO: Directors are creators. It does not mean they are good businessmen. Even if they are talented, some people are not good at communication. Also, a chance will be very important. I don't think there is a huge difference between a mainstream director and a Pink Eiga director in terms of their talent.
INFINI: I've noticed that your releases so far have burned-in subtitles which can't be removed, which is a pet-peeve of many people. Is there any special reason you're releasing the DVD's this way, and is it something that will be continued?
AO: The reason we decided to burn in the subtitles is the illegal copy problem. We were afraid that people could personally put subtitles in their language and introduce it on the internet. We are not a big company, and our sales volume is relatively low. Piracy issues hurt our company! I also personally prefer having subtitles as an option, but I'm willing to look past my personal preference for the greater good, which is being able to sustain our business long-term.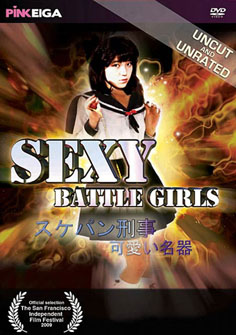 INFINI: Is there any particular reason why almost all Pink genre DVD's are letterboxed, and non-anamorphic? Does it have to do with the way most of the master sources are done?
AO: YES. We've been asked this in the past. We provide these films "as-is", and don't change aspect ratios that the Japanese production companies shoot on.
INFINI: Can you shed any light on why so many Pink films seem to have a fetish for bondage?
AO: The nature of these films is such that originally they were played in movie theaters in Japan. The initial target audience prefers to see more fetish and BDSM films, so that's what the production companies are making.
INFINI: Is there any chance we'll get extras such as interviews with cast and crew members on future releases?
AO: This is what I really want to do. However, it is very difficult on our current budget. Also, flying to Japan and shooting is not an easy task. For solving this problem, A Lonely Cow Weeps At Dawn included Director's notes. It is a special feature comprised of interviews with director Daisuke Goto that were held by email. Also, Sexy Battle Girls includes 22 pages of Trivia about the movie.
INFINI: What are your personal favorite Pink Eiga films, and which directors do you hold in high esteem?
AO: Personally, I like Daisuke Goto's Blind Love. This movie opened the door to Pink Eiga for our team. For low budget erotic cinema, this movie is most impressive.
INFINI: Can you drop any hints on what the next releases will be?
AO: Gee, I wish I had a good answer to this one! We're seriously considering Moonlight Dinner (A vampire film) directed by Yutaka Ikejima, as well as Twitch (Keiren) directed by Yuji Tajiri. Of course we want to release Yojiro Takita's films, and our fans have been asking for Anarchy in Japan Suke directed by Takahisa Zeze and Tsumugi directed by Hidekazu Takahara (starring mega-celebrity Japanese porn actress Sora Aoi).
Big thanks to Ayumu Oda for taking the time out of his day to answer our questions. Over the past few weeks conversing with him, he's been nothing buy nice and very helpful, and he's one hell of dude. He even schooled me on my incorrect usage of the work "Pinku" when describing these films. Adding the "u" on the end was just some guys way of trying to write-out what a Japanese person sounds like saying the word "Pink". Basically, the Japanese think we're quite silly when we do such things. I hope Mr. Oda and all of the guys working for PINK EIGA are highly successful in their venture in bringing these films to the US market. If these films sound like your cup of tea, you can support the guys by picking up their releases at Amazon or directly from PINK EIGA, where you can score on sweet deals and DVD's before the street date!