I don't know if many people know about Action Jackson. I had never heard about it until I read Vern's 'Badass Cinema' book, where he dissected every little thing about the flick and then some. After finally deciding to check it out, I was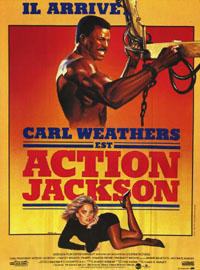 compelled to write something. You see folks this is no ordinary action film. This is a balls-out, 80's-centric, over-the-top action flick. This is real exciting, thrilling, hilarious filmmaking. This is Action Jackson.
Action Jackson tells the story of Sgt. Jericho 'Action' Jackson. Jackson is a regular Detroit super cop. We meet Jackson for the first time, a few months after being demoted for beating a guy half to death, then tearing off his arm. Jackson despises his desk work, so when the chance to get in on a major double homicide case comes calling, he jumps at the opportunity. The double homicide in question is seemingly a cover up to protect the plans of Peter Dellaplane, an auto manufacturer/multi-million dollar mogul. But Dellaplane and Jackson already have a long history, since Jackson was shelved for ripping the arm off Sean Dellaplane, Peter's son. So things get heated, people are killed, etc. And that's about the whole story of the film. Weak story, yes, but you didn't come to watch a movie like this for the story!
One thing to note about Action Jackson is that the cast is rounded out by actors from other great American action films. Jackson himself is played fantastically by Carl Weathers of Predator. Also from the Predator alumni is Bill Duke,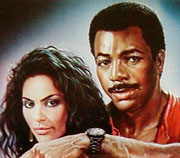 playing Jackson's Police Chief Superior. There's Robert Davi from License To Kill, Sharon Stone from Above The Law & The Specialist and even De'voreaux White from Die Hard (he played Argyle). Having a cast that's recognizable within the action genre really helps the films along. Between the big blow ups and set pieces you get a chance to pick them all out, see which characters have been in what previously. It makes for a fun little game to pass the time between explosions and one-liners.
Now, I'll make no bones about it. Action Jackson is a film that relies solely on explosions, one-liners, machine guns and a little bit of nudity. But plenty of films have that, right? The thing that sets Action Jackson apart is the style of it all. The one-liners are ridiculous, the nudity is just out of place and the action itself; incredible. Here's an example of one of the movie's sequences. Jericho is the target of an assassin, who tries to kill him with a taxi. Now the taxi initially misses Jackson, so he takes off on foot after the car. After catching up with it he jumps onto the roof, punches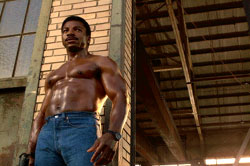 through the windscreen and grabs the assassin. The car suddenly brakes, sending Jericho flying off, and once he lands he stands up and challenges the assassin to "Come get me". So naturally, the assassin tries to squash the pesky super cop, but misses (because Jackson does a great Karate style jump over the car!) and flips the car into a pile of other cars. Within seconds, Jericho runs to the crashed pile of cars to find the mysterious killer has vanished! Yes, this is the quality of thrilling cinema Action Jackson has to offer.
I sincerely hope this review makes people want to watch this film. It's silly and has the soul of a cartoon. But it's funny, thrilling, exciting, and all the stuff that makes this style of film entertaining. It's just great fun and truly deserves its place in the Action Film Hall of Fame. So crack open a beer. Relax. And call your buddy Jericho Jackson. You won't regret it!
Please feel free to discuss "Action Jackson" here, in our forums!