After the young daughter of a Japanese martial arts master is kidnapped by an underground crime syndicate in an attempt to find out the location of a priceless treasure called the Andaman Pearl, an all-girl group of undercover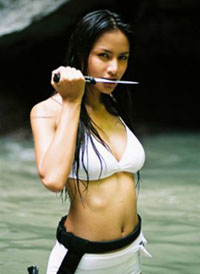 agents dubbed the "Chai-Lai Angels" are brought in to crack the case. A Thai spin on Charlie's Angels, the girls use all of the wares at their disposal, including sexy outfits, ridiculous costumes (apparently a mustache is enough to make a woman look like a man to these bumbling villains), fighting prowess, and deadly weapons to bring down the baddies, which include a transvestite heavy and a cross-eyed sniper.
I'm just going to cut to the chase on this one: Chai-Lai Angels: Dangerous Flowers is really, really bad. It's honestly one of the most embarrassing attempts at action-comedy I've seen in a very long time, making films like Bad Boys II and Collision Course look great in comparison. There isn't one redeeming factor in this mess that I can point to in an attempt to flesh out the review; not even scantily-clad Thai hotties could stop me from watching the majority of the flick using the PS3's 1.5x fast-forward mode that doesn't mute the audio, which I must say is a real godsend when put into reviewing situations such as this one.
The main reason Chai-Lai Angels is such a disaster is because neither of the genre's it's attempting, action and comedy, are pulled off well whatsoever. I didn't laugh one time during the 100 minutes of torture this film offers, and more offensive is I didn't even crack a smile. The film is pretty universal when it comes to the type of comedy it's attempting, which is slapsticky and spoofy, so I can't really say things were lost in translation in this instance; I'd be quite surprised if many people, if any, found this humorous even in its native land.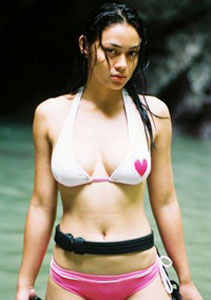 And then there's the action. I have to admit, I've been entertained by these types of films before without finding them particularly funny, as good action sequences are hard to deny. Sadly, Chai-Lai Angels can't even pull this aspect off. The hand-to-hand combat is woefully choreographed, with hilariously awful wire work and gross use of slo-mo. Not only that, but the larger action set pieces are unabashed rip-offs from Hong Kong and Chinese cinema. I'm sure there's some I'm overlooking, but I noticed things blatantly stolen from Supercop, The Enforcer, and House of Flying Daggers. One could make the argument that since this is a spoof it's not technically a rip-off, yet these are the scenes that are generally taken seriously without playing up the comedy. There's also the fact that they're taking things from another country's cache of filmmaking prowess; if they had maybe spoofed some of the action sequences from a film like Ong-Bak, then the argument would be valid. Otherwise, it doesn't hold much water and these scenes come off as little more than paltry imitations of one of its closest neighbor's top exports.
There isn't much left to say about Chai-Lai Angels, unless you want me to continue to beat a dead horse by heaping on more helpings of hate and mentioning things like the cringe-inducing spy music, the undercooked script with its crowbarred-in inane plot threads, the half-assed direction, and the cookie-cutter characters, but I won't. I think I've already said plenty.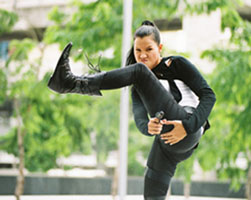 ---
Chai-Lai Angels: Dangerous Flowers sees release courtesy of Magnolia and Magnet as part of their continuing deal with Thai film studio Sahamongkol Film International. If you've seen any of their previous releases, you'll know what to expect. The film is anamorphic (1.78:1) and looks decent, but not great, as pretty much all of these Thai exports do. Textures are a bit muddy and color is muted, but it's certainly fine for what it is. Audio is available in both the original Thai 5.1 and a 5.1 English dubbed track. I viewed the film in its original language and the mix is pretty flat with barely any directionality of note. The optional English subtitles are fine and free of errors. Extras include a 14-minute behind the scenes featurette which includes mostly interviews with the cast and crew spliced with some making of footage. Rounding out the extras is a couple of cheesy music videos that hype the flick as well as the film's trailer.
Please feel free to discuss "Chai-Lai Angels: Dangerous Flowers" here, in our forums!