Throughout his career, Lucio Fulci directed many horror movies, but what many non-hardcore fans don't know is that he also dabbled in a few other genres including the crime/thriller genre with Contraband. Since the film comes courtesy of the aptly named "Godfather of Gore", it should come as no surprise that this is definitely the goriest and most violent crime movie I've ever had the pleasure of watching. It's hard to put into words how much I enjoyed this little gem.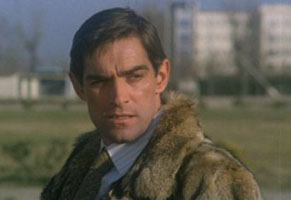 Fabio Testi plays Luca Di Angelo, a criminal who smuggles American cigarettes into Italy. He answers to his brother Mickey, who is responsible for their smuggling operation. They're not the only contraband runners on the waterfront, though: one key element is that none of these smugglers deal in drugs. Their somewhat low brow/peaceful operation is put in danger when Mickey, Luca's brother, is shot down by a couple of disguised assassins. This trend continues and one by one, all the other bosses are eventually killed. There are many violent deaths at this point in the film, stylized in the typical Fulci fashion. After much thought, Luca believes the killings were organized by Scherino, a mob boss who had little love for his brother, but he eventually discovers his assumptions were wrong. A competitor by the name of "The Margliese" is muscling his way into their trafficking territory with plans of his own. The Margliese is a cold-blooded killer who has no value for human life; this is demonstrated throughout the movie as he tries to take control of Naples speedboat syndicate. My favorite scene involving this character is when he burns the face of a very attractive female who he catches trying to fool him.
As the Margliese continues his reign of terror, Luca forms an alliance with Scherino and Perlante, who is the youngest of all the bosses. The death toll continues to rise as Margliese tries to force Luca into running dope in Naples for him. Luca refuses to do so, and in an act of revenge Luca's wife is kidnapped, beaten and brutally raped. Luca finds that he's alone in this turf war, but finds some unexpected help. Let me give you a hint: Lucio Fulci + a machine gun.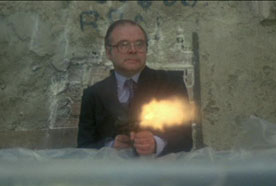 Multiple times during the running time of Contraband I found myself yelling "AWESOME!" and "YES!" with my fist in the air. Let me remind you that I now have a soft spot for this genre. Contraband takes many twists and turns, some good, some awesome, and none that are bad as far as I'm concerned. Going into this film I didn't know what to expect, as anyone that's delved into Fulci's filmography already knows he can be extremely hit or miss. When all was said and done, I was completely surprised by Fulci's work on Contraband; I really love how he managed to mix in some of his famous over-the-top gore into this bad boy, which makes it stand out when compared to other films in the Italian crime genre.
Once scene in particular that's a real standout involves a character getting his throat blown off by a gun blast and it's sure to put a smile on any self-respecting sicko's face. Another scene I loved was when the doctor overcharged Luca for his medical care and wouldn't accept a check; he knew Luca was in a tight situation, so he took advantage and accepted Luca's golden watch as payment. Luca then asks to use the telephone and finds out his family is in trouble. He's clearly distraught and is shouting into the telephone, but the doctor sits there acting as if nothing is wrong. I felt this was a pivotal scene that showed how alone Luca really was at this point in the movie and gave an extra dimension to his character, now not only a badass but also a sympathetic figure.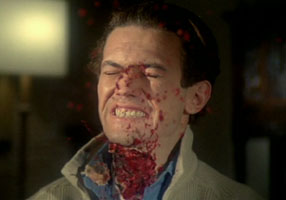 Overall, if you're in the mood for a fast paced, blood-and-guts Poliziotteschi film then Contraband is for you. It's regarded highly by many fans of the genre and helps prove that not only "Fulci Lives!", but also that he has a lot more up his sleeve than many of his detractors would have you believe.
---
Blue Underground presents Contraband on DVD in a decent 1:85:1 anamorphic transfer. The widescreen transfer is clear except for a couple of seconds of print damage during one scene. The colors look dull and washed-out at times, but it's nothing that will ruin the movie experience. The audio quality of the Dolby Digital 2.0 track is great, but the actual quality of the English dubbing can be occasionally grating. There is no Italian audio track (and obviously no subs to go along with them), which is a disappointment. Extras include talent bios for Lucio Fulci and Fabio Testi, and the film's theatrical trailer.
Please feel free to discuss "Contraband" here, in our forums!