After her boyfriend kills a man while robbing a liquor store and leaves her behind without a clue, Dee finds herself locked in an all-women's detention center. The group of girls she's shacking up with, led by a lesbian named Kat, are
about to make their escape though, and since Dee is privy to the information, she gets taken along for the ride. One of the girls has a hidden stash of money that she hid before being caught, and once out, that's where they're headed. Along the way they'll have to deal with hunters with bloodhounds, hippies, a motorcycle gang, and average folks who would like to cash in a reward by catching them. With all of these things to worry about, they begin to overlook the biggest concern of all: each other.
Even though Ed Wood wasn't sitting in the director's chair for Fugitive Girls, his mark can be found all over the film regardless. There are so many goofs and mistakes in the writing, directing, sound design, and nearly every other aspect of the film that it's clear that Wood was probably working right alongside the flick's director, Stephen C Apostolof. Of course like all movies Mr. Wood was involved in, these hilarious oversights in production are without question part of the charm and why so many people get a kick out of his films to this day, and Fugitive Girls is no different.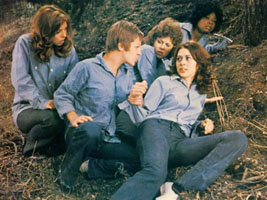 Among the awe-inducing badness you'll find during the film's 84 minute runtime are girls driving in a car while the outdoor background doesn't move, characters stating they're going to do one thing when something completely different happens onscreen (such as one of the girls saying she's going to take someone into the other room, and another girl actual does so, and bikers saying they're going to hide their bikes in the bushes so they can ambush the girls, only to pull their bikes just over to the side of the road), daytime scenes where the contrast and brightness is lowered to give the appearance that it's nighttime (it's pulled off horribly), dogs shown barking with no actual barks being heard, and terribly edited sex scenes. For a supposed exploitation film, the camera cuts during the sex scenes are so quick you'll never get to see a thing. This is unfortunate, as being a flick about women escaping from prison, it should have wore it's smut badge proudly, and it did originally, as there is an longer cut of the film out there that boasts full-on sex scenes. With all of the other ineptitude going on though, the awful editing during these scenes comes off as just another crummy element to add to the heap.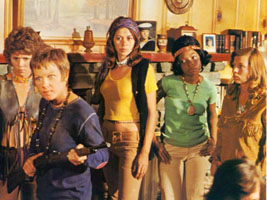 Ed Wood not only wrote this mess, but he also plays dual roles in the flick, one being a pencil-thin mustached sheriff that looks like Jackie Gleason from Smokey and the Bandit, and an idiotic gas station attendant. Like the aforementioned goofs, the script itself is pretty brainless as well. It's probably fitting then that Wood plays the gas station attendant, as he's the worst character he wrote into the script. When the girls stop to fill up, he recognizes them from a call he got earlier, so he goes into his warehouse to call and report that they're there. But he doesn't close the warehouse door and talks loudly, so much so that the girls, which are only about 15 feet away in the first place, hear him clearly and bash his brains in. If anything, maybe the blow to the head knocked some sense in to him!
Fans of Mr. Wood's maniacal genius are sure to get a kick out of Fugitive Girls. It's a terrible film, with bad pacing, horrible acting, and lacking in the exploitation elements that it could have reveled in given the subject matter (even this being an edited version, some of the sex could have been kept), but the missteps and blunders are so abundant and the dialogue is so ridiculous that you can't help but smile and keep on watching to see how much worse it can get. Connoisseur of bad cinema should make it a point to give this turkey a look.
---
S'More Entertainment's release of this obscure trash is about good as it probably deserves. The print used is 1.33:1 open matte, which isn't the intended visual presentation, but at least it's not pan-and-scan, and none of the picture is missing. The print itself isn't in the best of shape, and looks extremely worn out and color-faded. It looks like what you would expect from an un-restored video, and probably wasn't the type of film that anyone was looking to keep in pristine condition, but at least since it's now on digital media, it won't degrade anymore. The mono audio is serviceable, but there are a number of occasions where the volume level dips, and you'll be reaching for your remote. Other than that, the audio is easily understood. Extras include a short promotional stills gallery, a text biography for Ed Wood, and the film's original theatrical trailer.
Please feel free to discuss "Fugitive Girls" here, in our forums!