As I sit here and begin this review, I'm trying to come up with some smart and interesting thoughts on Ti West's The House of the Devil. To ensure that those who haven't seen the movie, the ones reading this right now, will be moved to see it, immediately. I really do think any self proclaimed horror fan owes it to themselves and their credibility to see this movie now. It is that good.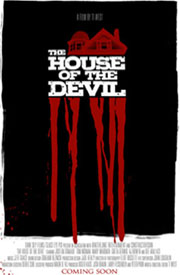 The House of the Devil tells a simple story. While down on her luck, young college student Samantha (Jocelin Donahue) takes a job as a babysitter for an elderly couple. With the amount of cash she'll earn from this one gig, she can afford to move into a nice apartment in a nice neighborhood. But when she arrives to the home, she's told there is no child. Pretty much from then on things to start to take a turn for the worst, as Samantha begins to see the horror's that lay within the house.
If you are a fan of 80's horror movies, straight off the bat you know you're in for a treat. West's movie opens with Samantha viewing the apartment and briskly moves along to a great opening credit sequence, 80's synth track intact. Things then move along a little bit slower as we're introduced to Mr. & Mrs. Ulman, the elderly couple Samantha will be babysitting for. The Ulman's are played fantastically by Tom Noonan (Robocop 2, Manhunter, and The Monster Squad) and Mary Woronov (The Devil's Rejects). Mr. Ulman explains that tonight is a very important night for the couple and that it has something to do with the solar eclipse taking place this same night. After the Ulman's leave, Samantha is free to explore.
Its right around here things start to get very intense. From strange noises throughout the house, to the sheer isolation of being pretty much alone in a huge and dark manor, Ti West really cranks up the suspense. Something I found to be increasingly frightening too was the idea that Samantha is all alone, strolling through this totally new environment all the while it's deathly silent. She knows the elderly woman is in the house too, but where is she? What's she doing? Could she be watching Samantha this whole time?
Something to love about the movie is the relaxed pace. It really takes it's time to build suspense, build characters and build a rapport with Samantha. This build up makes West's film work as a serious one-two punch, with an explosion of graphic and brutal violence in a horrifying climax. I know people were critical of the movie's payoff, but I think it works well with the tone of the movie. All the little things come together to create an ending that really stays with you, long after viewing.
---
The House of the Devil is available on DVD & Blu-Ray from Dark Sky Films & Magnet. The DVD & Blu-Ray come with identical features, but if you order the DVD, you can get it in a bundle with a VHS copy of the movie! The VHS is a great collector's item and it makes for an awesome viewing it you've still got your old VCR laying around. Oh, I forgot to mention that the VHS tape is also labeled with Gorgon Video, the old company behind the releases of Faces of Death, etc. The features on the DVD & Blu-Ray include; a commentary from director Ti West and Jocelin Donahue and another commentary with Ti West and crew members. There's also 2 behind the scenes featurettes (both coming in at under 10 minutes), Deleted Scenes and a trailer for the movie. The deleted scenes don't offer much, and the features are kind of interesting, but you don't get to see too much. All in all it's a nice package, a fantastic old school horror film, with some decent special features. If you haven't seen this yet, check it out.
Please feel free to discuss "The House of the Devil" here, in our forums!