When it comes to Italian action cinema, there's really one name that rises above all others: Enzo G. Castellari. Whether he's tackling Poliziotteschi with The Big Racket and Street Law, post-apocalyptic sci-fi with 1990: The Bronx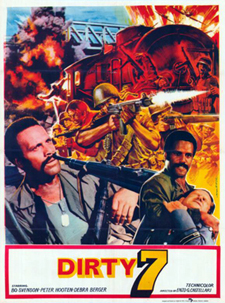 Warriors and The New Barbarians, spaghetti westerns with Keoma, or war films in the case of The Inglorious Bastards, the man can seemingly do no wrong. In a mainstream sense, The Inglorious Bastards is without question his most recognizable film, thanks in part to Quentin Tarantino running off at the mouth about it ad nauseam. Regardless of what you think of Tarantino as a director, there's no denying after seeing The Inglorious Bastards that at least he chooses to rip-off the best.
A rag-tag group of Allied soldiers, under arrest for acts that include theft, cowardice, and flying a plane for the sole purpose of seeing ones girlfriend, are being transported to a prison camp when they come under fire courtesy of a German squadron. Men start dying, and a crafty handful of the prisoners manage to escape: the tough-as-nails Lt. Robert Yeager (Bo Svenson), the cool and collected Fred (Fred Williamson), jack-of-all-trades Nick (Michael Pergolani), lady's man and all-around asshole Tony (Peter Hooten), and the cowardly Berle (Jackie Basehart). Together, they decide to head to the Swedish border to escape any further harassment from either side of the war, as the country is neutral.
Actually making it to the border is a proposition that's a lot harder than it sounds. Along the way they encounter a German soldier, nicknamed Adolf, who is just as sick of the war as they are and offers to escort them across Nazi lines. After being nearly captured by a Nazi troop that sees through Adolf's ruse as well as some naked, gun-toting German chicks, they screw up and end up killing a squad of American Special Forces ops, who were acting undercover, dressed in Nazi regalia. Come to find out, these guys were working hand-in-hand with the French resistance on a mission, and now that the French are down their aces-in-the-hole, the guys see a chance to orchestrate their escape.
The Inglorious Bastards is a total blast, from the opening animated credits sequence to the final grandiose explosion. It's pretty apparent the film was inspired by Robert Aldrich's The Dirty Dozen, but only in spirit, as it stands on its own and carves out a niche for itself rather quickly. Like most Italian fare from this period, it's not afraid to get exploitive, whether it's a flock of naked, bathing German women that are packing heat or the ever-awesome Fred Williamson (whose star was big enough in the US at the time to have the film re-titled G.I. Bro, making him the central character) chomping on a cigar while sending countless Nazi bastards to their doom, never breaking a sweat or more importantly never dropping the cig! Realism is tossed out of the window pretty quickly, so if you're looking for a serious war film, you've come to the wrong place.
There's lot of little things going on in the film that are just a joy to watch. Little nuances of comedy permeate throughout, such as Nick pulling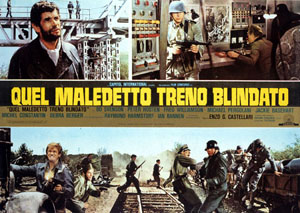 out all sorts of trinkets from his jacket like a bargain-basement Inspector Gadget and Fred Williamson talking to and treating his gun like a woman. Bo Svenson runs around cracking skulls and talking trash like its second nature, and playboy Tony is the perfect semi-antagonist that you'll love to hate. The action is top-notch, with some great gunfights, lots of well-done stunts (particularly on the train during the film's climax), and tons of massive explosions, tearing miniature townships to pieces. Michael Bay should take note: THIS is how you blow shit up real good!
As tongue-in-cheek as everything throughout the film is, it actually ends on a surprisingly sour and serious note. The bravado going on for much of the runtime gives the indication that these guys are pretty much unstoppable, and all will work out, tied up nicely with a bow on top. But there's a lot more kinks than could be foreseen, and you might be taken aback a bit when you see how it all eventually turns out. As farcical as things may be, this is still a war film at its core, and there are unfortunately always casualties.
The Inglorious Bastards is simply the epitome of a "turn your brain off and go along for the ride" action flick that's just a sheer load of fun. It's got enough chest-thumping, testosterone-driven, over-the-top moments to keep even the most jaded of action fans on the edge of their seats. War has never been this fun.
---
Severin Films jumps head-first into the Blu-Ray pool with The Inglorious Bastards, and does a pretty fine job on their first attempt. The film is presented in 1.85:1 1080p anamorphic widescreen, and contrary to a few reviews, looks pretty damn impressive. While it doesn't pop like a big-budget Hollywood film does, for a 30 year old cult flick, it looks great. Flesh tones look dead-on, the forests that make up much of the background are well defined, and there's a nice amount of depth I just wasn't expecting, particularly in the opening scene when all of the guys are being loaded into the back of the truck for transportation. Severin has chosen to give the film a 5.1 Dolby Digital mix for the Blu-Ray release, and while it does serve as a moderate upgrade, with explosions and gunshots sounding more robust, the volume level is extremely low. I had to crank my receiver to MAX, and even then some of the dialogue came through quietly. Luckily there's optional English subs for these sections, as well as the original Dolby Digital 2.0 track which is much more balanced, but unfortunately compressed. There's also an audio commentary with the man himself, Enzo G. Castellari, along with moderator David Gregory. Castellari speaks in English, which makes some things hard to understand, but those moments are few and far between. He relays a ton of cool information, including that this was the first Italian film to use a steadicam, his experiences working with the actors, the on-set enthusiasm for the multiple lady nude scene, and that he indeed went into the film ready to "blow everything up". He obviously had a ton of fun filming the picture, and it translates over to the finished product well.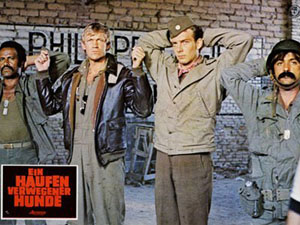 In a cool move by Severin, all of the extras on the disc are available in HD, albeit 1080i. While the improved quality is negligible, since it looks like these were probably just upconverted from SD, it's still better than being forced to watch them in 480p. The main extra is a nearly 40 minute conversation with Castellari and Quentin Tarantino. I have to be honest here; I couldn't get through more than ten minutes of this. Tarantino is yapping like a rabbit hopped up on meth, while Castellari sits there staring at him like he's looking at an invader from another planet. It's pretty embarrassing to watch, and I just couldn't force myself to listen to QT ramble on any longer (remember, I review for free!) Next up is a much cooler featurette entitled "Back to the Warzone", which has Castellari revisiting the countryside and locales in which he shot the film. It's funny to see that a lot of the places look nearly identical to how they did in the film. A 75 minute documentary, "Train Kept A Rollin'" is also included, which features interviews from the cast (including the badass himself, Fred Williamson! I know, I'm obsessed!) and crew. It's interesting to hear about the making of the film from people involved in all different facets of its creation, and is extremely in-depth and worth spending time with. US and Italian trailers for the film are also included.
Everything mentioned above (outside of the 5.1 audio mix) was included on the 3-disc Explosive DVD Edition Severin released last year (which included a bonus soundtrack CD, which isn't included here). Exclusive to the Blu-Ray is footage from a showing of The Inglorious Bastards at the New Beverly in LA, a place I've heard so much about and curse about every day since there's nothing that awesome in driving distance for me, which includes a reunion between Castellari, Williamson, and Svenson. The crowd is enthusiastic and we're treated to a short Q&A session. The second exclusive is a 70th birthday celebration for Castellari which was thrown when he was in LA for the showing of the film. Overall, a damn fine inaugural release for Severin in the realm of HD.
*Please note that the screenshots on the left are not representative of the Blu-Ray picture and are taken from Severin's DVD release.
Please feel free to discuss "The Inglorious Bastards" here, in our forums!