After years of prosperity and respect for his martial art of Wing Chun, Yip Man has been reduced to a mere pauper after the Japanese occupation of China 1937 which resulted in the second Sino-Japanese War. Concerned now with only the care of his family, he slaves away by day at the coal mines just to be able to bring them home something to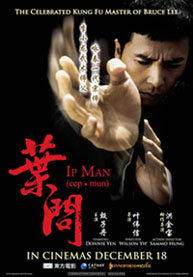 eat and has given up practicing martial arts. When a group of Japanese soldiers show up at the work site looking for Chinese martial artists to spar against the Japanese for bags of rice, Ip is suspicious but can't stop one of his closest friends that he once practiced with to volunteer. When he doesn't show up for work in subsequent days, Ip decides to go along the next time the Japanese offer. What he sees appalls him: his fellow countrymen being beaten down, bloodied, and even slaughtered while a Japanese General, named Miura, watches over the proceedings like some Roman emperor. Miura finds out quickly that Ip isn't like the rest and makes an offer: his life for the secret of Wing Chun.
Based on the life of Yip Man, the first man to openly teach the martial art of Wing Chun and teacher of Bruce Lee, it's up for debate how authentic Ip Man is in regards to historical fact (actually it's not; there's a ton of embellishments). Something that's far less disputable however is that Ip Man is one of the best martial arts films to emerge in the past decade. Yes, it's that good. Forget the overhyped Ong Bak, think no more of the bloated Crouching Tiger, Hidden Dragon, and if you have Kill Bill on the tip of your tongue right now, swallow those words and hang your head in shame. No, unlike those films Ip Man delivers the goods and is the real deal, capturing the raw spirit of the heyday of Hong Kong martial arts films with some of the most crushing, awe-inspiring fight scenes in years.
And there's one scene in particular that will have people talking. While all of the scenes are quite impressive and a joy to watch, up until the fight in question, all of them are of a playful nature and less serious in tone, just like the film itself. But when Ip Man shifts from light-hearted bravado to a somber, humorless affair, the fights go the same way. After witnessing a friend cut down in gladiator-esque arena battle for the Japanese occupiers enjoyment (and winning is the only way the Chinese can obtain rice to feed their family), rage causes Ip to step up to the plate and challenge ten men. What follows is systematic destruction for the ages, something so brutal that it makes even the Japanese soldiers, who had no qualms with gunning down tens of thousands of helpless Chinese, wince with phantom pains.
As is par for the course with larger Hong Kong productions, you'll be treated to a lot of familiar star-power. Director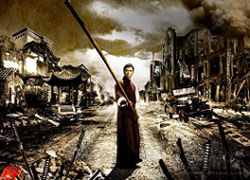 Wilson Yip once again casts Donnie Yen at the top of one of his films, and he's truly great as the enigmatic Ip Man. Simon Yam also has a sizable role as Quan, a businessman with a strong friendship with Ip; it's sort of odd though seeing Yam once again take on the role of a less-than-cool character, but his work is as solid as always. Johnnie To regular Ka Tung Lam also takes on one of the lead roles, but the most interesting sighting is Siu-Wong Fan, who you may know better as Riki-Oh from arguably the greatest film ever made, The Story of Ricky. This is no bit role either, he's a character integral to the plot and it's really great to see him in a high-profile film such as this.
Anyone that consider themselves a fan of action cinema, not just Kung Fu films, needs to make it a point to see Ip Man. While the melodrama may be laid on a bit thick at times, it's never overbearing and soon enough another killer action scene is sparked and any doubts are quickly forgotten. Ip Man is wonderfully choreographed, excellently paced, and extremely entertaining. A sequel is already in production and I can't wait to see what's next for my new favorite martial arts master.
---
Seeing release thanks to UK outfit Cine Asia, Ip Man is treated to a 2-disc special edition DVD. The film is presented in 2.35:1 anamorphic widescreen, and while it unfortunately isn't progressive scan, the combing and ghosting that normally could pose a problem is kept at a minimum. Details are surprisingly strong, and overall this is a nicely balanced transfer. The included Cantonese Dolby Digital 5.1 track (also available in 2.0) is excellent, with a lot of oomph during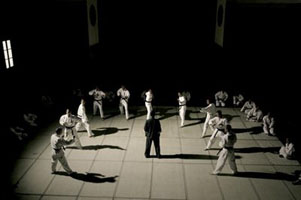 the fight scenes and is all-around strong. Optional English subtitles are easy to read and free of any glaring errors. Extras included on the first disc include trailers and TV spots for the film, as well as previews of other Cine Asia releases.
The second disc kicks off with a slew of individual interview segments, including director Wilson Yip, stars Donnie Yen, Ka Tung Lam, Simon Yam, Hiroyuki Ikeuchi, Siu-Wong Fan, Dai-lin Xiong, action director Sammo Hung, and Yip Man's son Ip Chun. If you're a fan of cast and crew interviews, you'll find a lot to enjoy here and we're served up with lots of different perspectives about the film. Next up is a collection of deleted scenes which are mainly extended versions of scenes already in the film, but there is one scene in which General Miura meets a different end. Also included on the disc are multiple pieces on set design, production, and general behind-the-scenes tidbits, footage from the film's premiere, and a featurette entitled "From Ip Man to Bruce Lee: Tracing the Legacy", that's more of a Wing Chun and Jeet Kune Do demonstration than anything else. Overall, a solid release for a solid film.
Please feel free to discuss "Ip Man" here, in our forums!