Hey man, dig this! A hip Greenwich Village painter named Tyler Westin is down and out and looking for some inspiration. He can't find it from his dolly Lisa, who he loves to hate. His beatific friends recommend he takes a ride on a new far-out experience called LSD. Tyler isn't down at first, but after seeing how one of his cats is really cookin' with is own work, he decides to take the dive. Tyler ends up on a one-way ticket to Weirdsville that includes getting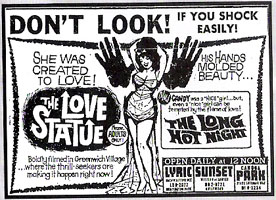 down and dirty with a lifelike statue of a smokin' hot chickie. When the smog in his noggin' lifts, he finds his babe Lisa has gone off to deadsville; in his pad, no less! Did Tyler go kookie in his drugged-out haze and off his girl or did someone else go ape and do the deed? This has bad news written all over it…
Directed by David Durston, who went on to expand on the idea's at play here greatly in the homicidal hippie classic I Drink Your Blood, The Love Statue is notorious for being arguably the first film to be about LSD. To be honest, the drug doesn't play very heavily into the film, and being from 1965, it feels like its stuck in-between the Beatnik-era flicks that proceeded it (especially Roger Corman's A Bucket of Blood) and the more overtly exploitive drug films that were right around the corner (like Corman's The Trip; these guys must have been on the same wavelength). For a sexploitation flick, it just doesn't titillate very much and as an exploitation flick, it just doesn't go far enough. I'm still rather perplexed at why this is called The Love Statue at all; the scene with the statue in question lasts about 5 minutes, and is certainly among the stronger portions of the film, but it has little to do with the overall plot. It feels as if some guys had this small 5 minute idea and then attempted to build a feature length film around it. Sadly, it doesn't quite work.
But that's not to say there aren't some things that work in The Love Statue; quite the contrary. Even though it doesn't fit nicely within the niche that it's supposed to, there are some distinctive things going on that make it more noteworthy than you'd think. The first thing that really jumped out at me was the opening credits sequence, which features a silhouetted woman dancing to a Japanese pop song sung by Hisako "Choko" Tsukuba (who actually starred alongside Sonny Chiba in The Golden Bat). The song sounds like it could have come out of any Kinji Fukasaku or Teruo Ishii flick and the scene itself would be at home in any of the early arthouse Pink films. This obviously piqued my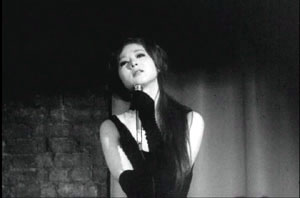 interest a lot, and sets the tone of the film, giving it an air all its own. Director David Durston, fresh off of hobnobbing with Italian neorealism directors such as Michelangelo Antonioni, injects tons of symbolism and odd asides throughout that may not completely work, but again provides The Love Statue with a unique angle. The snappy dialogue, which is reminiscent of the excellent repartee heard in Russ Meyer films, is also a joy to listen to, although the delivery of it can sometimes be lacking.
The ending of the film is also quite impressive and worth trudging through the film's slower areas. On the final day the film was set to be shot, New York was hit with over two feet of snow, which obviously wasn't in the original script. It forced everyone working on the film to scramble and figure out how they'd work around it. The decision was made to rewrite the ending, and move things to a giant frozen dam. For such a low-budget indie flick, this lends a pretty grand setting and there's some definite tension going on as the climax plays itself out. Shot with a wide lens, the entire scene resembles the final act of a moody noir film more-so than a schlocky LSD flick; and that can really be said for all of the cinematography, which is quite compelling.
Certainly not essential viewing by any means, if you're interested in this period of Americana, especially right before all bets were off and innocence was forgotten, you may find a lot to enjoy in The Love Statue. It definitely serves as a nice little time capsule when looking at what was considered risqué 45 years ago, and has just enough going on to hold your attention. Dig?
---
Secret Key Motion Pictures presents The Love Statue in a decent 1.33:1 full frame transfer that preserves the film's original aspect ratio. There's a good amount of print damage throughout, mainly of the scratches and dirt variety, but it's never bad enough to warrant distraction. And let's be honest, I don't think anyone outside of the people that were involved
in the production and those that saw it in NYC during its opening run even remembered the film, so in context the print is just fine. Audio is available in Dolby Digital 2.0 and has a low hum that runs underneath for the duration, and dialogue is a bit muffled. If you turn the volume up a bit higher than normal though, you shouldn't have any trouble making things out.
More shocking than anything though is the wealth of extra content that's on this disc; Alternative Cinema should be commended for working so hard on a special edition release of such an obscure flick. First up are two separate video interviews, one with director David Durston and the other with star Peter Ratray. Each of these runs a little over 10 minutes a piece. Both men have great memories and are filled with tons of interesting information, including the ideas behind the film, problems with the shoot, battling the weather, and the fun they had on set. Two short alternate scenes are also included, as well as feature commentary from Durston which just like his on-camera interview is bursting with fun stories.
Arguably more fun than the film itself though is the two bonus LSD scare films, LSD-25 and Your Amazing Mind. I've seen a few of these before on Something Weird releases, but these two are an odd beast that almost make taking LSD sound okay, especially LSD-25. This short actually has a voice-over from LSD himself, saying that he's not all that bad and won't make you go crazy, more-so recommending responsible use than staying away from its evil. Rounding out the extras are some trailers for other Secret Key releases and a five page insert with liner notes from film historian Michael J. Bowen.
Please feel free to discuss "The Love Statue" here, in our forums!