I have to admit that I'm really not that familiar with 70's Euro-sex comedies. I'm not a huge fan of comedies, but I am heavily into Euro cinema and Sexploitation, so I'm not really sure why I've never tried one out. Thanks to the good folks at Alternative Cinema, I've finally had the chance to with Naughty Nymphs; it certainly didn't hurt my chances of giving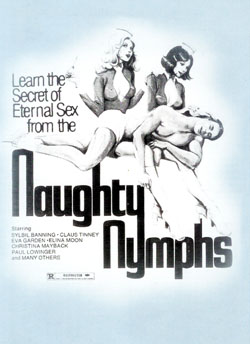 it a try when I found out the lovely Sybil Danning starred, whom I spent many late Cinemax nights with during my youth. And what do you know? Naughty Nymphs turned out to be a decent flick.
Young Elizabeth has had a terrible run at jobs, quitting or being fired due to working for lecherous men, so she's heading back home. It seems the perfect place to get her head straight, not only because she can work for her father's pharmacy, but also because he rules over his daughters with an iron fist, forbidding them to hear any talk of sex or be exposed to any temptations. He's actually kept his two younger daughters secluded in the house, in fear that venturing too far from the nest will result in sexual deviancy. Oddly enough, the reverse has happened; while Elizabeth has been out in the world, she's a virgin and has nary kissed a man. Her sisters however are sex-crazed and sleeping with the help right under father's nose.
When Elizabeth arrives home, her sisters are shocked to find out that she hasn't been broken in. She's onto what her sisters are doing, and threatens to tell father all about it. This doesn't sit very well with the girls, nor their now blue-balled boyfriends, and after overhearing their father talk to a customer at the pharmacy about a supposed potency pill, they find the recipe and make up a batch, in hopes that they can drug the local men so they can get frisky with Elizabeth. Of course it gets way out of hand, and soon the entire village erupts into a horny uproar. Can Elizabeth manage to hold out for true love?
As surprising as it may sound, Naughty Nymphs isn't the depraved, exploitive experience that the film's title would have you think (and it's a good thing the title wasn't simply translated from the original German title of Blutjung und Liebeshungrig, which translates to Underage and Hungry for Love; imagine all the images that would have conjured up!) No, Naughty Nymphs is harmless fun with heavy doses of overly theatrical humor tossed in for good measure. It actually feels really reminiscent of the Benny Hill Show (complete with a hyper-fast chase scene), albeit with a lot more nudity on display. There actually isn't really any simulated, extended sex sequences at all. The few that are present are played for laughs, and are way over the top.
Even without any serious sex scenes to gobble up, there's a hell of a lot of nudity on hand, and nearly every lovely lady in Naughty Nymphs is very easy on the eyes. The aforementioned Sybil Danning looks amazing; you may know her best from the mid-80's sleaze like Chained Heat and Malibu Express (she even had a short-lived comic based on her called Black Diamond)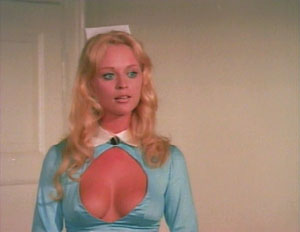 that made her a late-night cable staple. During the height of her popularity, she was already well into her thirties and looking great. Here, she's only 25 so you can imagine! The rest of the ladies are no slouches either, and you'll always find yourself looking forward to the next scene that features some naughty bits.
But the most surprising of all is that waiting for those next scenes isn't that excruciating. The reason I avoided films like this for so long is because I figured the stories sucked and the only excuse to watch them was for the skin. Now I'm not going to kid you: the story in Naughty Nymphs really isn't that great. But it's quite entertaining, and without question does a good job of holding one's attention in-between what most people have come to the show for. The characters get into all sorts of crazy situations that are always good for a chuckle (the entire "potency pill" fantasy that actually turned into reality years later with Viagra makes this a funny product of its time), and sticking around to see if someone can finally manage to deflower Elizabeth is curiously compelling.
At the end of the day, Naughty Nymphs is neither important nor essential, but it's a fun, unthreatening sex romp that I can see any fan of campy Euro-sex enjoying. It's not the sleaziest and it's not the best, but it's an amusing, non-demanding way to burn 80 minutes, and I could think of worse ways to waste an otherwise uneventful evening than ogling Sybil Danning.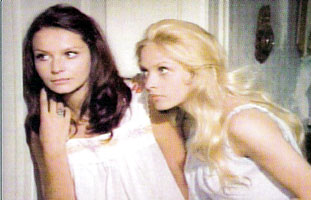 ---
Secret Key Motion Pictures presents Naughty Nymphs on DVD in what I believe to be its original 1.33:1 aspect ratio. No information seems to be missing, so even if it's unmatted and intended to be presented in widescreen, you're not missing anything. The print is decent, although colors look a little muted and there's a fair amount of damage here and there, mostly scratches and nicks. Only an English dub is available, which is rather bad in delivery but fine in terms of audio quality. Being a comedy, the bad dub poses less of a problem than it would have in a serious outing. Still, it would have been nice to have the film in the original German. It's interesting to note that IMDb says this film is supposed to run 90 minutes; hardly any information can be found about the film, and IMDb is far from infallible, so it's hard to say whether what we have here is a cut export version or not. Personally, the film flowed nicely at 78 minutes and didn't feel jumpy whatsoever.
Secret Key has included an extensive trailer reel of 70's German sex comedies which includes films with titles like 2069: A Sex Odyssey (yep, it's sci-fi!), Pets (which doesn't look very funny, but does looks like a depraved good time), and Run, Virgin, Run. They're all very fun to watch, and a few of them have definitely found their way onto my radar. Also included are liner notes featuring a Sybil Danning bio and a short essay on Naughty Nymphs.
Please feel free to discuss "Naughty Nymphs" here, in our forums!