Okay, I'll admit it. Let this be written testament, that I was wrong about George A. Romero. For years I chalked him down as a decent director who had shone a brief glimmer of talent, but squandered his years carelessly making tripe like Diary of the Dead, and to a lesser extent, Land of the Dead. It was upon viewing his new film in the long standing '...Of The Dead' series that it hit me like a brick wall. Survival of the Dead is a good movie; a very good movie.
Romero's newest tells the story of two feuding families; the O' Flynns and the Muldoons. On a relatively isolated island, Plum Island to be exact, the families fight over two separate views of the current state of affairs. One fights to kill the newly awoken dead, while the other fights to keep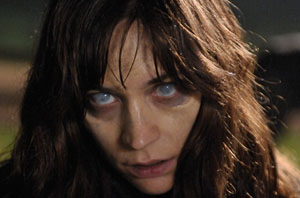 them alive, in hopes of finding a cure for the walking corpses. Enter a rag-tag group of military drop outs looking for a safe haven to live out their remaining days, zombie free. With all 3 groups in the mix, it's only a matter of time before gun shots ring out and guts are furiously chomped.
Rewinding a little bit, before I get to the positives and negatives of Survival, I just want to address my problems with Romero's previous entry. After finishing Land of the Dead and tiring of studio interference, George saw fit to return to the independent roots from which his original film grew. Told in the perspective of a group of college teens with a Handy cam, Diary had everything going for it. We were told it would be a ferocious back to basics schooling from the Master of Zombie Cinema, but instead we were treated to bad acting, poor CGI, a terrible script and lazy direction. The main reason I'm writing about Diary right now is because I want to push the point across that for the most part, Romero has learned his lesson and both corrected his mistakes and improved as a filmmaker. Survival is a true sequel to his original Dead Trilogy and a worthy entry into the annals of horror cinema.
Okay, so onto the positives. The casting in Survival is truly great, with a team of capable actors and actresses who carry the film along nicely. The heads of the feuding families are played by Kenneth Welsh and Robert Fitzpatrick. Both actors fuel the family scenes with great energy, Fitzpatrick being an evil, yet intelligent gun-slinging patriarch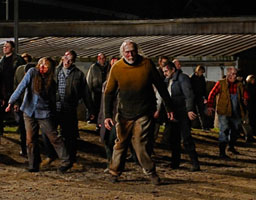 and Welsh a charismatic and equally smart trickster. The film's real lead comes in the form of Crocket, played excellently by Alan Van Sprang. Crocket's only care is to find a safe haven, away from the walking dead and the thieves and scum that are running rampant throughout the world. Yet when he arrives on Plum Island, he immediately feels drawn to the fighting families' problems and therefore gets dragged in, muddling his black and white world. Of course, all the great acting in the world will never outshine what's most famous in Romero's movies; the gore.
One talent that has never failed George is his ability to find new and exciting ways of dispatching the undead. In previous movies we've seen zombie's torched, shot, stabbed, blown up...the list goes on. But even in Survival, he seems to be able to muster up very creative ways to destroy the body. Who needs a machine gun when you've got a fire extinguisher or a flare gun? Survival packs in the usual wallops of grue Romero has become famous for, so gorehounds reading this, you will not be disappointed.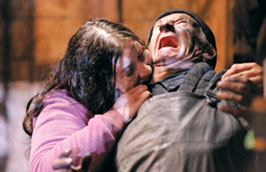 And now rather quickly, the negatives. While I found Survival of the Dead to be a thoroughly entertaining and technically well made film, there are a few things that just stick out like a sore thumb. Here and there, scattered throughout the running time, there are scenes that are completely ridiculous. Without spoiling much, as it's got fucking nothing to do with the plot, there is a scene where the group of Militia is relaxing, taking a breather before heading onwards, when one of the main characters is masturbating in front of the rest of the group...random? Completely. Its things like this that feel a bit self indulgent, as if Romero demanded to keep in these scenes like he thought they were significant to the rest of film. There's also some very weak dialogue in parts, with some truly laughable one-liners. But as a whole, these things don't affect the film enough to leave a bad taste.
The newest entry into George Romero's classic zombie series is a success ladies and gentlemen. While the copy of the movie I'm reviewing is Region 2, Survival of the Dead isn't launching until April 30th in the United States, but when it does I recommend checking it out. Especially if you hated Diary!
Please feel free to discuss "Survival of the Dead" here, in our forums!