Gathering three directors to direct different sections of a film is a novel proposition. Sure, we've seen it a ton of times with anthologies that share similar themes, but it hasn't happened often with a singular film, with the same characters and narrative throughout. The only one I can honestly think of is The Signal, which I loved for its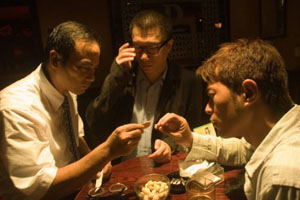 uniqueness but it was indeed a bizarre experience with the extreme tonal shifts going on when one director passed the film over to the next. So it was with equal parts trepidation and excitement that I went into Triangle, which unites legendary Hong Kong directors Tsui Hark, Ringo Lam, and the awesome Johnnie To and gives them the task to each direct 30 minutes of the film from a single, continuous script.
Sam, Fai, and Mok, three buddies who like to go drinking together and vent about their problems, are all having big money trouble. One fateful evening, a mysterious man in a black hat and overcoat overhears their plight and offers them a once-in-a-lifetime opportunity to fix their monetary woes. Buried underneath a government building is a treasure, and he has all of the information on how to get it. While it sounds good, they're all wary that this could be some sort of set-up.
Fai also thinks it may just be an urban legend, and he has something else in the works anyway. He's hooked up with some local mobsters to rob a jewelry store, and all he needs to do is find a driver to pull it off. Sam is his go-to man, but being timid, he backs out at the last minutes. This gets Fai in hot water with the gangsters, and the idea of finding the treasure and paying the guys off is now much more appealing. The guys agree to attempt the heist, but there are a lot of roadblocks in their way, including a cop that's currently being intimate with Sam's wife, the angry heavy's from the postponed jewelry store hold-up, and the fact that the government building where the goods are hid is locked down with heavy security. And if by some miracle they do pull it off, can they even trust one another?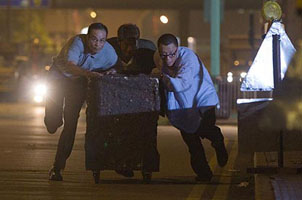 It truly is an amazing feat that Triangle actually works; not only in that it flows rather nicely, but also that it's a damn good thriller. The first thing that is really striking is all of the directors are allowed to play to their strengths; Tsui Hark utilizes high-octane action along with his hallmark thick atmosphere, Ringo Lam also uses an action-heavy style but injects it with a strong feeling of melancholy, and Johnnie To ties it all up with his dense, multi-layered techniques and trademark western-style standoff. Sure, if you're familiar with these directors you'll indeed notice when the baton has been passed, but the story does segue well and it never feels like there's that much of a departure moving from one director to the next.
All three of these directors know how to create thrilling moments, whether it's through insane action (Hark and Lam) or tense, chaotic shootouts (To), and Triangle is not lacking whatsoever in this department. Fantastic car and foot chases, back-stabbing and intrigue, and a finale that has to be seen to be believed are just a few of the more memorable moments of the film. Triangle isn't just an action film however; there's a good amount of wry humor going on as well as some deep-seeded emotional turmoil. Even with so many hands in the pot, the characters evolve over the runtime and always feel consistent. There is a little bit of a niggling problem with the ending, where To feels the need to bring together every single character we've seen throughout and it's hard to keep track of them all, but regardless it's still well orchestrated and taut.
If you're into cinema from Hong Kong, there are a lot of familiar faces here, including the ever-great Simon Yam and Louis Koo. Yam actually takes on the role of a nerdy businessman, a stark departure from the usual cold and calculated characters he generally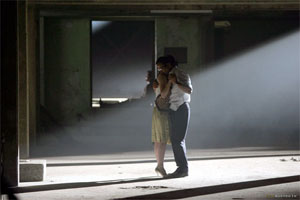 plays such as Lok in To's Election films. To be honest, if you've seen more than a couple Johnnie To films, nearly the entire cast consists of his regulars. In that respect, you definitely know you're going to get quality performances from all involved.
Triangle is a compelling experiment that while you'd think would only be worth watching for the curiosity factor, is surprisingly enough a solid entry into the bloated Hong Kong crime-thriller scene. All three directors are allowed to do what they do best, and it all makes for a flawed, yet fascinating film.
---
Magnolia Pictures continues their commitment to releasing new Asian cinema with Triangle. The film is presented in anamorphic 2.35:1 widescreen and looks quite good. I didn't notice any problems with it myself, with colors looking great (sometimes HK films can look a little washed out; not so here) and no encoding snafus to speak of. On the audio side the original Cantonese as well as an English dub is available, both in 2.0 and 5.1. The 5.1 Cantonese track sounds pretty good, with clear dialogue and decent directionality during high-action scenes. Extras include a short making of featurette with the three main actors and the three directors speaking about the challenges and reasoning behind Triangle. Also included is a 13-minute behind the scenes piece that shows what went into making some of the bigger scenes.
Please feel free to discuss "Triangle" here, in our forums!