Amidst the boom of the Pinky Violence era came a gritty little ditty named Rika, produced by Office 203 and the Modern Movie Association and distributed by Japanese studio giant Toho in hopes to compete, and moreover cash in on the money making sleaze niche pioneered by the now legendary Toei studios.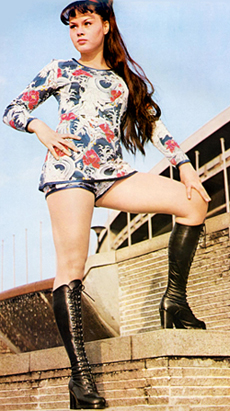 Directed by Ko Nakahira (Crazed Fruit) and based upon a manga by Taro Bonten, Rica was released on November 26th, 1972 and was quickly followed by two subsequent sequels.
The film starts as Rica (Rika Aoki) approaches a member of her gang as she lays pregnant and dying on the beach, a result of a self inflicted overdose of poison. While dying the fetus aborts while being delivered by Rica, who afterward promptly places the baby in a basket taking it to the delinquent yakuza thug who had fathered the child, before ditching the unborn baby and its mother.
Shocked and furious as to such a defiantly blatant shame, the thug in turn seeks Rica out and challenges her to a no holds bar duel. As the rumble proceeds Rica gets the better of the thug, sending him hurling onto a spike impaling him through the chest just as the police arrive, encircling Rica and taking her of to a Christian Reform School. While Rica's being dragged off by the police, the remaining thugs attack Rica's gang savagely beating and raping them before taking them away.
While on her way to the reform school, the film fades into a reflection of Rica's past. First her mother as a young student being chased down and raped, by some off duty GIs prior to an impending shipment to the Korean warfront. Nine months later Rica is born a half-breed, the daughter of an unknown western soldier. Her mother is eventually reduced to working as a concubine (prostitute) to make ends meet, and as a result while a young teen Rika her self is assaulted and raped by one of her mother's lovers which would lead her to a life of violence and crime.
Once reaching the reform school Rica is quickly confronted by Reiko (Kazuko Nagamoto), in an effort to flex her muscle as head hauncho of the school. This leads to another brawl, only to be broken up by the schools staff. Eventually one of Rica's gang who happened to escape capture gets word to Rica what has happened to her gang, leading to Rica's escape later that night.
Upon investigating Rica finds that her gang has been sold as sex slaves to American soldiers in Vietnam, Rica makes a vain attempt to raise money to purchase their freedom through extortion, which leads to the pursuit of some local Yakuza and the further tangling of an ever weaving plot.
The first thing that hits you when watching Rica is the heavily convoluted plot. It's like a wreaking ball to face. More seems to be crammed into the first twenty minutes alone than most 90 minute films.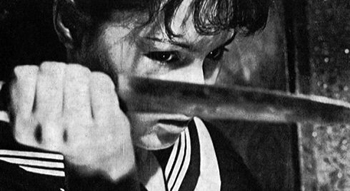 While it's still fairly easy to grasp the gist of what's going on and everything does essentially come together in the end, the choppy narrative is somewhat disorienting the way it jumps crudely from scene to scene lacking any real semblance of fluidity.
The role of Rica is a partially unique heroine, while it's true most pinky starlets started out quite young and their character reflects that, at her oldest Rica is a mere 17 and as a result this brings a certain amount of baby faced teen angst to the role. Rika Aoki did a formidable enough performance with her debut as the feisty Rica, with her rough screen presence only adding to her characters charm. She also has the chance to showcase her vocal abilities early on in the film, singing a couple popish tunes whist attempting what I can only assume to be amongst the most atrocious go-go dancing of the 70's.
The cinematography here is lacking considerably compared to the Pinky Violence pictures Toei and Nikkatsu studios were doing at the time with the striking absence of the signature luring visuals, warm colors, artistic anglings and camera movements. However while giving the film an added gritty feel in combination with the already low production values it's a forgivable negligence. The sound track is about what you would expect from the era with a mixture of jazz, funk and pop. It's nice soothing blend, though nothing really stands out as memorable. In regard to the low production values I must note the usage of some dark brown grease paint and afro wig, used to portray a half black & Japanese girl from the reformatory. It much reminded me of the ridiculously made up Wing Sheng Wang as the East Indian yoga master from Master of the Flying Guillotine
The fighting sequences in Rika are absolutely hilarious! You won't find any of Chiba's Japan Action Club here, the laughable on screen martial arts antics is nothing but endearing and overall is more charming than an actual hindrance. The real money so to speak is with the blood and gore, and boy does the red stuff flow! Plenty of spurting geysers and knife play, guns shots, impaling and limb severing. I was actually taken a bit aback by the shear magnitude of all the violence and bloodshed.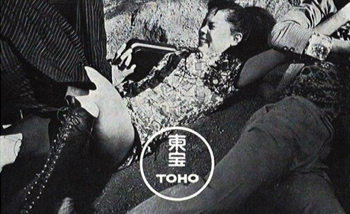 It wouldn't be Pinky without the tits and ass and Rica surely delivers here also, and unsurprisingly it contains several rape scenes a couple of which being ferocious gang rapes. Mercifully the rape isn't glorified, and the majority of the viciousness plays off screen. Of course there are also a couple standard sex scenes thrown in there for good measure as well.
Once again the popular reoccurring theme of anti foreign sentiment and occupation rears its head in the realm of pinky playing an integral role to the theme, moreover there's a heavy antiwar stigma altogether. However this seems to be more a play to the fashion of the era, than any real political meaning.
Rica is by no means of the same league of a Female Scorpion, Sex & Fury or Stray Cat Rock, however it possess an appeal all its own and offers an genuinely entertaining piece of sleaze well worth watching. I wouldn't recommend hitting this one first if you're new to the genre, but in contrast to the more well established greats that any self respecting Pinky Violence fan should already be familiar with.
Please feel free to discuss "Rica" here, in our forums!