Recognized mainly for his early exploits in the science fiction and horror genres from the 1950's , Jack Arnold boasts a filmography comprised of now cult favorites such as It Came from Outer Space, Tarantula, Creature from the Black Lagoon and The Incredible Shrinking Man.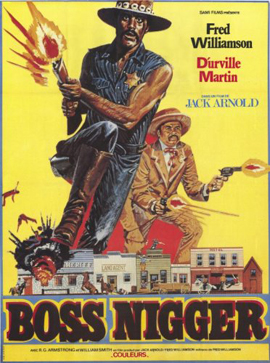 Yet in 1974 he made the decision to delve into an entirely different direction all together, entering the realm of Blaxploitation with the private eye thriller Black Eye starring former pro football player turned Blaxploitation legend Fred "The Hammer" Williamson. The two would work together one more on the explosively titled Boss Nigger, of which Williamson would for the first time be credited for his screenwriting and producing.
Set in the late 1800's Boss (Fred Williamson) and his partner Amos (D'urville Martin) travel the southwest rounding up bounties, often through the use of deadly force. While hunting down underlings for the Jed Clayton (William Smith) gang, they so happen upon the very same underlings amidst a rough attempt to rape a young black woman after shooting her protecting father dead. Boss and Amos gun down the bandits with ease, moving in to assure that yes they are in fact the ones they're looking for. While doing so, Amos stumbles upon a letter implicating the mayor from the near by town of San Miguel association with gang leader Jed Clayton. Due to the large bounty on Jed's head boss and Amos decide to press this matter further, after firt dropping the young woman Clara Mae (Carmen Hayworth) with an acquaintance on the outskirts of town.
Taking the dead bodies of the bandits with them to collect their bounty, the bandits approach the deserted sheriff's office in San Miguel, to the horror of the snobbish white folks who reside in San Miguel. With the town bubbling with astonishment it isn't long before the aforementioned Mayor Griffin (R.G. Armstrong) approaches both men in the empty sheriff's office, ranting brazenly before being quickly put in his place by Boss, and set straight as to how things are going to go down from here out.
Boss makes fully known his intention to capture Jed Clayton to ensnare the large bounty on his head, and that he plans to utilize Jed's association with the town to do it. It isn't long before Boss stirs up more trouble with several more of the Clayton gang's underlings which eventually leads thems to killing two and wounding another. Whith the town now ever more riled up, Boss then proceeds to muscle in on the town's empty sheriff's position using the town counsels fear of retaliation from the Clayton gang against them.
Here the meat of the story unfolds, with the numerous interactions of hilarity between Boss, Amos and the hopelessly ignorant white townsfolk. A notable instance being between Boss and the soon to be smitten local schoolmarm Miss Pruitt (Barbara Leigh), Pruitt declares: "When I visited my friends in Boston the negro's would dance and sing. I would watch them, it was a very fun time." To which Boss hilariously responds: "Well Miss Pruitt, now you can tell your friends in Boston that you've met some niggers that don't dance or sing."
The story continues on in a similar fashion bogging down slighty, until leading into the action between Boss, Amos and the Clayton gang as guns begin blazing and bodies falling.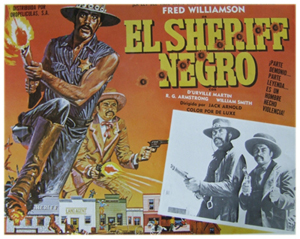 Blaxploitation really ran the gamut of sub-genre's within its own throughout the 1970's, utilizing the staples of horror, action, war, crime, sex and sleaze ect. all to its full advantage. Boss Nigger is no exception riding on the success of the then especially popular western film medium, with heavy influences from the Spaghetti Western forefront.
Boss Nigger gives the western genre a modern feel with a fresh score, ripe with urban undertones utilizing thick and heavy baselines and funky wah-wah guitar fills. The films theme song entitled none other than the title track of "Boss Nigger" is a powerfully magnetic illuminator, mercilessly drawing anything within its path transfixed to the screen and totally attuned to the films early invigorating vibe. Shamefully due to the heavily satirical lyrical content boisterously blaring such gems as "He's so bad…They call him boss…He's the Boss…Boss Nigger", the theme was heavily censored along side the films title itself.
Boss Nigger is a wacky flip on the established western niche. An empowered black duo live amongst an era of rapid racism choosing not to cower from it but instead to face it full force, bluntly belittlingly and jeering at its many audacities. Paraphrasing the words of Amos: "After years of being hunted by the white man, they chose a profession where they in turn are the ones doing the hunting". Time and time again they're looked down upon and referred to as niggers only to mockingly turn it around whether it's Amos locking a townsman up for calling him a nigger in public and charging him $30 for his release, or Boss' mimic-ish uncle tom shoeshine stammer before blowing a hole in the boot of the offending nigger spouting offender.
("Boss Nigger Theme" - Leon Moore)
Honestly what makes the film is exactly the thing you see on the original one sheet poster art and in the film's unedited title. Boss Nigger, a no nonsense taking badass who blows bloodied smoking holes with his modified sawed off rifle, asking questions later... Fred Williamson commands a powerful screen presence, it's undeniable that the film simply would not have been the same without him and it fully reinforces his ever understated talents from a man who would grow as an actor to write, produce and direct his own features. It also goes to say, for a B level production the acting is far from the pure trash one might expect yet noticeably (as well as humorously) not of an academy award winning caliber.
While with the staling middle section and an overall adequate storyline, Boss Nigger holds it own with style, character and badassness. While not what I would consider among the top tier of blacksploitation films, it reserves a special place amongst the must sees of the genre if only for Wllliamson's portrayal of Boss or even theme song alone…
"Black man in a white man's town. He's got trouble. Get in his way, he's gonna cut you down. Takin' over. He can ride. He can shoot. Don't take nothin' from nobody. Oh, he's black, bad, scared of nothing, yeah! He's so bad. They call him boss; he's the boss; boss nigga. He's so bad, they call him boss. He's the boss; boss nigga. Bad. They call him boss. They call him boss. Boss nigga. He's so bad. They call him boss; they call him boss; boss nigga. Bad."
Please feel free to discuss "Boss nigger" here, in our forums!