By the 1986 Japanese theatrical release of the Fist of the North Star (Hokuto no Ken) animated movie, the Hokuto lore was already well established following the 1983 debut of the originating manga and television series which would proceed it a year later. The film would share the same production team as the television series, with directorial duties levied on Toyo Ashida. Already a veteran of various episodes from the television series, Ashida's greatest triumph to that point would be the equally graphic cult masterpiece Vampire Hunter D. Unfortunately for North American audiences, they wouldn't receive their own taste of Hokuto until the early to mid 1990's, following streamline pictures laughable English dubbing of the film.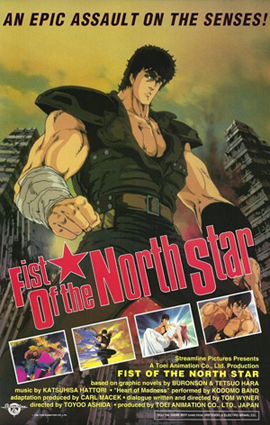 It's the year 199X and the world is stricken barren from the ravaging of a global nuclear war. The remaining survivors are left to squabble over the last remaining scraps of food, water and resources. Violence is now law; the weak are preyed upon mercilessly; while the strong and wicked grow fat from the spoils of their labor. Silently, the world pleads for a savior.
Enter Kenshiro, the newly appointed successor of Hokuto Shinken, a deadly martial art rooted in an ancient 2000 year history. Hokuto Shinken inflicts damage from the inside out, and is a most devastating force to be reckoned with. However, when confronted by Shin, a master of Hokuto Shinken's polar opposite Nanto Seiken, Kenshiro's abilities prove still lacking. As while walking with his fiancée Yuria, Kenshiro is approached by shin, who proceeds to attack Kenshiro wounding him badly. Shin then proceeds torture Kenshiro leaving seven puncture wounds in Kenshiro's chest, stopping short of killing him only by the pleads of Yuria, and the promise to leave with Shin and love him forever.
Watching in the distance is Kenshiro's two adoptive older brothers, Roah and Jagi. Roah informs Jagi he can have the Hokuto Shinken successorship, turning his back in disgust and going about his way. Raoh's returns to the Hokuto dojo where he challenges his adoptive father and teacher Ryuken, rather than be forced to have his fists crushed to prevent him from using his Hokuto Shinken, as there could be but one successor. As a result of his challenge, Raoh murders his father who had been weakened by age. Jagi on the other hand jumps at the chance to rid himself of Kenshiro and take the successorship for himself, so rather than helping his younger sibling he pushes him into a large crack deep into the earth. Confident in his new unchallenged position as successor, Jagi leaves in triumph. Is this the end of our hero Kenshiro?
Fast forward a year later and we meet two young children, Bat and Lin who find themselves surrounded by thugs as they franticly scramble for their lives. When out of the distance comes a rumbling as battered buildings begin to tumble in a cloud of dirt and rubble. Out of the destruction emerges a hooded figure, which is soon shown to be the one and only Kenshiro. Gone is the youthful gleam from his eyes, and in its stead remains a saddened bleak determination. Kenshiro makes short work of the bandits, appearing to be far stronger than the successor of old. In tattered rags, and a full beard Kenshiro now has a new purpose. To crush the tyrannical and cruel, in pursuit of his lost love and newfound lust for revenge against those who had so wronged him.
To analytically dissect Fist of the North Star would be a disservice to the film and its potential viewers, ultimately an exercise in futility. At its pinnacle of enjoyment it remains a superficial forum to watch heads explode and bodies pile up. That's not to say the film is without its reoccurring symbolisms and elementary ideals, but the true star of the film is its machismo-esc swagger, a bravado of which could only come of to fruition in the 1980's. For assurance of this one need look no further than the series title character Kenshiro, with an appearance akin to Sylvester Stallone, the demeanor of Clint Eastwood's "Man with No Name", and the ferocity of a combative Bruce Lee mid battle cry.
Those familiar with the manga or television series will notice multiple liberties have been taken with the story's narrative, most notably being the exclusion of the 2nd eldest Hokuto brother Toki. In addition, several key events have been either re-sequenced or altered entirely. While this isn't terribly detrimental to the final product, it does however bring with it a certain level of disappointment and alienation to the series's core audiance. Undoubtedly much of the changes can be attributed to the films attempt to capture somewhere around 50 + episodes worth of storyline, stopping well short of first TV series's 109.
Like the television series the soundtrack is pure 80's, with Komodo Band's Heart of Madness being its signature standout track. Toei studios animation is much improved here from its guerilla television styling's, bearing the same design minus much of the often rough and unfinished look of the series. Still viewers will note the artwork is a long stretch from later masterworks such as Ninja Scroll or Ghost in the Shell.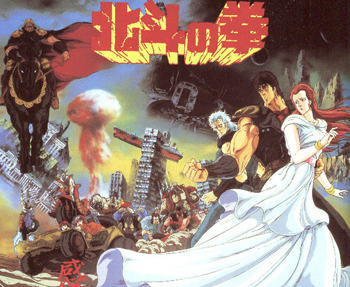 The Fist of the North Star the animated feature was my first introduction to the series and among my firsts entries in Anime all together. As such it continues to hold a special place in my heart. While age and familiarization with the series and source material have lessoned its appeal, it remains a much beloved and highly recommended piece of nostalgia. Definitely worth looking into for fans of mindless action and balls out 80's cheese.
---
Finally after 23 years Fist of the North Star is receiving a respectable North American release at the hands of Discotek Media sub- label Eastern Star. The transfer appears to be a port of last winter's region 2 Japanese release, and as such unfortunately lacking is an a option to choose between the included theatrical or alternate Japanese home video endings. At the very least it would of been ideal for the latter to be included as a special feature, in my opinion it remains more true to the source material and fans should have the option to compare and decide for themselves which they prefer. Presented in its original 1.33:1 full frame aspect ratio, this release also inherits the optic blurring implemented during many of the films graphic scenes of violence. While for the most part the print remains clear and pristine, said censorings leave many sequences distorted with a blue-ish or red discoloration and VHS like pixilation along side some occasional distortions which were likely added for artistic effect. Also worth mentioning is a couple instances where the quality briefly drops drastically, possibly the result of damage to the original print? As for the censorship it dates back to the theatrical releasing, and it's unclear whether a fully uncensored version still exists with the likelihood of this being the best we're ever going to get. Rest assured gore hounds, there remains plenty of mutilation and carnage to revel in.
Audio options include both the original Japanese with English subtitles and English dubbing in Dolby Digital stereo. The English subtitles appear to be somewhat lacking in the translation which is undeniably disapointing, but they're certainly an improvement over the chinese bootlegs of yesteryear. Extras remain limited to the Japanese theatrical and preview trailers, several character profiles and an image gallery.

Please feel free to discuss "Fist of the North Star" here, in our forums!