In 1963 prominent Japanese film director Kon Ichikawa's Yukinojya Henge (Revenge of a Kabuki Actor) was released under the commission of Daiei studios, a harrowing tale of revenge fueled tragedy first adapted from a newspaper serial authored by Otokichi Mikama.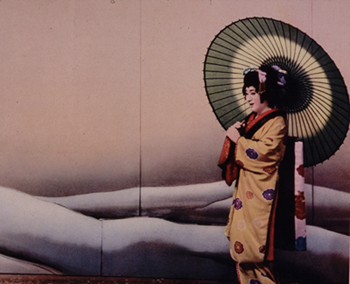 Ichikawa was neither the first, nor last to adapt the serial to film. The first being director Teinosuke Kinugasa in 1935, which would un-coincidently see Kazuo Hasegawa (Gate of Hell) in the title role; a role he would again reprise in Ichikawa's version nearly 30 years later.
Revenge of a Kabuki Actor centers around Yukinojo (Kazuo Hasegawa), an oyama from the 19th century (a male thespian, who catered to female roles) at the height of his popularity in Japan. In 1629 women were banned from performing Kabuki Theater in Japan, oyama were required to step in to fill their female roles. Up until the Meji Restoration (1868), oyama were required to stay in character dressed as the women they portrayed, whether it be on or off stage.
After the underhanded greed fueled schemes of a then Magistrate Sansai Dobe (Ganjiro Nakamura), rival merchant Hiromi-ya (Eijirô Yanagi) and merchant clerk Kawaguchi-ya (Saburo Date) see that Yukinojo's thriving family business in Nagasaki is lost due to erroneous smuggling accusations; his family is stripped of their business and status. Despair soon followed for the family and as a result, a then 7 year old Yukinojo would first lose his mother and shortly thereafter his father to suicide.
Taken in by a Kabuki actor young Yukinojo finds himself thrust into the theater life, never forgetting the egregious atrocity which previously befell his beloved family. It so has it that many years later while on tour from Osaka in the capital city of Edo, Yukinojo miraculously finds himself performing before Sansai Dobe and Kawaguchi-ya themselves, in addition to the pair is Sansai's daughter Namiji (Ayako Wakao), concubine to the Shogun. Namiji immediately takes a fancy to Yukinojo, finally setting into play the perfect ploy for Yukinojo's own web of lies, betrayal and brutally inescapable revenge.
Revenge of a Kabuki Actor holds true to its namesake's aesthetics with the usage of lavish visuals, distinctive shadowing and Kabuki-esc extravagances. At times it's as if you're watching a piece of Kabuki Theater itself which works wonderfully in this setting, and is truly a sense tingling treat to behold.
While heavily atmospheric in nature, and brimming with readily embellished theatrics Revenge of a Kabuki Actor still manages to steer clear of the pitfalls of sheer campiness or of an all style and no substance mentality. It emits a foreboding loom of desperation and offers a compelling look into the familiar theme of revenge from a more unrecognized perspective.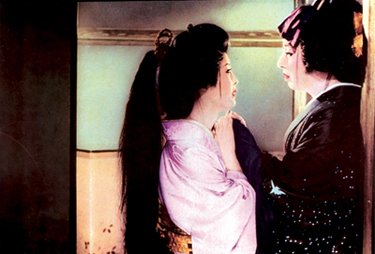 In addition to the films stylized theatrics, what appears most striking is Hasegawa himself. One normally wouldn't expect to find an actor returning to the same role nearly 30 years later, and moreover at the age of 55 do it so convincingly is an astonishing feet in and of itself. Admittedly Hasegawa's skillful portrayal of a kabuki performer, specifically an oyama really should come as no surprise considering his extensive experience in various oyama roles throughout his many years performing on both stage and on camera. Regardless of why his performance plays out so well, it ultimately proves the final touch in what my opinion makes the film work so well in relation to the character of Yukinojo himself.
Yukinojo's androgynous appearance, dainty mannerisms and high pitched murmurs easily move well past any mere superficial plot device. Further development finds an added depth amidst an underlying misery slowly bubbling towards a sadistic unrelenting rage. Steadily Yukinojo shows himself to be a masterful tactician and capable martial artist as his stratagem begins to unfold.
Thus brings us to the point of the films steadfast and deliberate pacing, of which fully allows the narrative to seep in gradually building upon itself piece by piece until finally reaching its pinnacle and unraveling methodically. The film ends in a shroud of mystique and intrigue, further tying into its kabuki theatrics.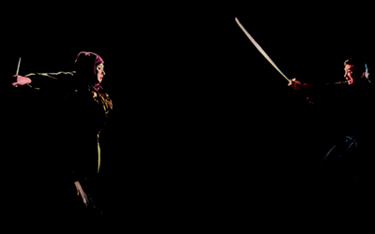 In addition to the character of Yukunojo, Hasegawa would take on the role of Yamitaro the Thief in the film as well. Something which is jeered upon lightly near the films conclusion, while the visual similarities are obviously unavoidable, it never seems to hinder the films authenticity and once more only adds to its Kabuki inspirations.
Jidaigeki (period films) enthusiasts will assuredly take note that Daiei Studios pulled out all the stops for what was meant to commemorate Hasegawa's 300th film appearance. The celebration would see the noted inclusion of two of Daiei Studios biggest stars. Undisputable Japanese film icons Raizo Ichikawa (Shinobi no Mono, Sleepy Eyes of Death) and Shintaro Katsu (Zatoichi, Tenchu), both of which make brief appearances in minor rolls throughout the features run.
Revenge of a Kabuki Actor may not be for everyone, it's paced slowly with its moments of action scattered loosely and is noticeably lacking the buckets of geysers spewed bloodshed many audiences tend to gravitate towards when thinking of "Samurai Cinema". Its lead is not the vision of macho bravado we've all become so accustomed to in the west, while its often overtly dramatic and theatrical presentation may alienate some viewers. However it is a highly engaging visual delight, driven by a timeless tale of greed, betrayal and the inevitable grisly retribution. It is with the considered combination of several of the aforementioned elements which bring forth Revenge of a Kabuki Actor as a truly unique cinematic experience and one which should not be missed by fans of great Japanese cinema.
AnimEgo's recent anamorphic presentation comes in its original 2.35:1 aspect ratio which does an illustrious job of highlighting the films fabulous usage of vivid colors and shadowing. Extras include trailers, image gallery and the usual highly informative on-screen production notes.

Please feel free to discuss "Revenge of a Kabuki Actor" here, in our forums!