So this is what the horror genre has become; a sort of competition of one-upmanship for the most vicious and relentlessly brutal film. It's frustrating watching such a technically accomplished work, while at the same time wondering just what in the damn hell were they thinking? Where is the line? Soon I fear we'll cross any sort of moral boundary separating genuine fear and terror and plunge right into the netherworld of flat-out human atrocity. I kid not here folks – watching Martyrs was at some points like popping in footage of Nazi experiments for shits and giggles. And it does so with such earnestness that I felt downright appalled – not by the gore itself, mind you, but by the pure savage context in which the violence occurs.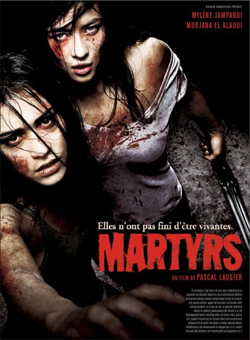 But remarkably, it is not a bad film. It's actually well above average. There are moments of genius where real fear and atmosphere gurgle up and catch you off guard. But it just wanders too far off into mindless brutality that I find myself having difficulty justifying giving it a great review. I am sure there is an audience for this out there somewhere, given the overwhelmingly positive reception it has gotten since its premiere, and I admit that I wanted very much to enjoy it. I am not being a softy or anything – some of the greatest scary movies ever made are unnervingly brutal. Have these fans not seen the likes of Suspiria? Aliens? The Descent? Or forgotten them? Or perhaps we've just become desensitized to the point of no return. But I guess I'll reiterate before I get too preachy and say that it's not at all terrible, it's just the utter nihilism is kind of shocking and more than a little depressing.
Alas, I must talk about the film and I will try to refrain from many spoilers, but it will be difficult – consider ye warned.
Martyrs begins with a young girl escaping from an industrial warehouse, bloodied and bruised and crying. We learn in various flashbacks that she was kept prisoner and tortured for an extended amount of time. Her captors are never found. The little girl, Lucie, grows up in an asylum of sorts, is quiet and given to violent outbursts as one would expect from someone who had gone through what she did. She continues to develop fresh wounds on her body, but whether they are self-mutilations or something...else is not for me to give away. Remarkably, through all this chaos she befriends another girl, Anna. As they grow older, it becomes apparent that Lucie will only ever trust and talk to Anna, and when we see them as adults they are virtually lovers.
Cut to the present. Haunted by visions of her torturers, Lucie executes an entire family in their home when she thinks she recognizes the parents from a newspaper photo. She believes the parents were her captors from her childhood. Out of pure love and protectionism, Anna shows up at the house to help her dear Lucie. Oh my, and then things get ugly as Anna realizes that Lucie has most likely has killed an innocent family and not her supposed tormentors. But there is something else malevolent within that house, stalking Lucie and Anna...oh yes, things get really ugly.
One of the major strengths of Martyrs is its pure unpredictability. Believe me when I say that even the hardiest of horror junkies will think they will have it all figured out, but really they won't have the slightest clue. There are numerous bizarre twists and turns and more than a few moments that really blindside the viewer. At about the exact midway point, the film does a bombshell 180-degree flip, and that's just the beginning. All this, in turn, makes for some really wonderful edge-of-your-seat viewing, especially some of the initial sequences in the asylum. It has been a long while since I've seen such frightening scenes. Oh, and the soundtrack is outstanding. Phantom pops and grinds and things-that-go-bump-in-the-night squirm their way into a number of tense sequences, almost hidden in the muffled background. There is some really excellent filmmaking during these times.
Beneath it all is actually quite a neat little story too, if you can somehow look beyond the outward blood and guts. But, as I would have imagined, the actual point of the whole thing is lost on me amidst the bloodshed. The ending, while satisfactory in a number of ways (not the least of which is the conclusion of the lengthy torture scenes), there is just something missing – some lack of real depth to appreciate what was truly happening. I wish that subplot would have been a little more expanded, actually. Without spoilers, this sounds cryptic, but you'll get my point if you watch it. However disjointed and wacky the story arc may be, it does indeed come full circle. You get to learn about the motivations of Lucie's initial imprisonment and why she seems to live in a nightmare reality, with those strange creatures stalking her.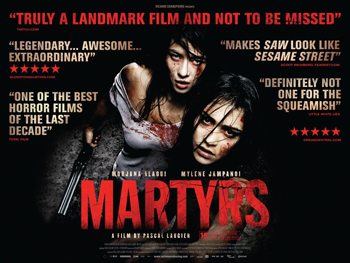 As I said before, there is some uncomfortable stuff to sit through, and I'll warn you that there is a lot of truly upsetting abuse and violence towards women. Thank god someone had to foresight to keep rape out of the equation, but if that kind of misogyny bothers you, stay away. Don't rent this as a date movie is all I'm saying.
Martyrs is a film that staggers on the knife edge of fear and pure gory shock-value, but is unsure which way it wants to fall. I enjoyed much of the movie, and there is much to be admired. Just damn, that senseless brutality seems blankly tagged on to give it more fanboy power...or horror street cred...or something. It's too bad, as there are a number of really nail-biting sequences that give it promise.
So, where to go from here? Horror has always pushed the envelope, but now that it's gone virtually mainstream, that envelope seems ready to burst and splatter its brains all over the pavement. After seeing this film, I am at a loss. Truly though, where are we headed when pointless cruelty like this is so revered and accepted?
Please feel free to discuss "Martyrs" here, in our forums!