"ARRRGGG!!!" "BLOODLUST!" "RAWRRR!!" (A female moans) "AARRGG!!"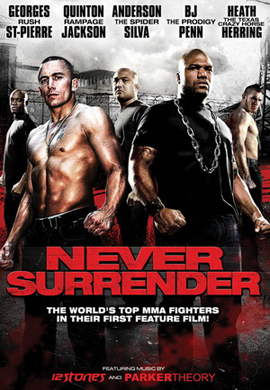 Showcasing the type of brainless flesh slapping you'd expect from a b-grade action flick, Never Surrender always knows exactly what audience it is catering too. With films like Crank and Fast and Furious pushing attention spans to the limit, this is edited and shot in the type of flash in the pan, blur of chaos style that drives most film viewers into epileptic seizures. Human interaction within the film's universe is comprised of 3 different types: 1) Males fight each other every time they cross paths like dogs walking into another's territory (and I mean EVERY TIME, any time, everywhere) 2) females either sex the men they see immediately or 3) women swim topless in pools with other melon heavy females. Blocking punches in this realm of pain is for pussies, roundhouse kicks will always be taken on the chin, and nobody ever goes down unless they are given a firm headlock. If you can speak clear English you are delegated to a small bit part in which you are promptly disposed of, and emoting beyond the capabilities of most statues gets you not cast. Welcome to the wonderland that is Never Surrender.
While it is quite evident that Never Surrender wants to be an updated version of Bloodsport with more tits and actual MMA fighters (Georges St. Pierre, Heath Herring, BJ Penn, Anderson Silva, and Quinton Jackson to name a few), it doesn't hold a candle to the camp fun that is coursing through the prior film's veins. There are some pretty unintentionally funny sections of this film that make it feel like it would have been at home in the 80's but most fans of the genre will grow tired of the fights due to their completely unwatchable visual style. It is a shame that martial arts films have to be filmed like someone coming down off of heroin is at the camera and ADD patients are at the editing station. What happened to the days where fight choreography mattered and was treated like an intricate dance of death? Every punch doesn't need to be seen 4 times in a row. The behind the scenes shows that they went through fight sequences before hand but you would never know with the way the shots whirl past in such a rapid succession that you don't know if you saw a punch, kick, or anything more than a blur. Thank god that at least most of the women you see on screen become naked at some point or another, because with out them, this movie would be a complete waste of time.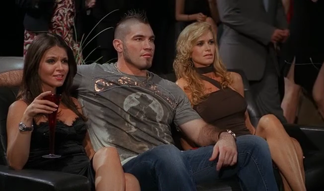 The flimsy plot we have to endure in 2 minute bursts between fight and sex scenes involves Diego, played by writer/director/producer/actor/legendary kickboxer Hector Echavarria, a bored MMA fighter who gets coerced into an underground fighting tournament promising big money and women swapping as prizes. Every fighter has a woman as his collateral and if he wins he gets the other fighters woman for the night. If he loses, vise versa. Of course as you would expect, Diego falls in love with his personal hooker, played by the stone faced melon heavy Silvia Koys, and has to fight for her freedom by destroying the Russian crime boss Siefer, played by consummate bad guy Patrick Kilpatrick. You couldn't get a more stock martial arts story than this.
I won't dog the majority of the cast too much because they are or have been professional fighters for a living with this being nothing more than a poorly crafted promotional tool for their careers, so acting isn't what they have worked for their entire lives. Some of the best moments of the film come from the fun these guys appear to be having, but don't expect to be dazzled by performances or witty banter. Most dialogue falls flat due to execution alone. If broken English and stilted speech isn't your thing, than you better run for the hills because a few actors give Arnold and JCVD a run for their money. Of everyone involved I would have liked to see more of Heath Herring. He was the only one that felt like he could have held an audience's attention in a more traditional sense.
Really, if you were just looking for an action film with a rapid pace that would make most porno's blush (fight, sex, fight, sex, talk, fight, sex) than you may not mind procuring some frosty beverages to get your laugh on to this. There is a completely guilty sort of fun to have with Never Surrender. Hell, I watched the whole thing and never looked at my watch once, but that doesn't mean it was good by any stretch of the imagination. Unless you are a huge MMA fan, and even then, this is something you can forget about and not really lose any sleep over. I would easily rather watch actual MMA fights over this forgettable mess.
---
Never Surrender comes to us from Lions Gate. The picture presented on the DVD varies from sharp to pixilated. For the most part it is consistently high quality, but there are times that minor imperfections are present (mostly in the helicopter shots over Vegas). I bet it is more thanks to the source material rather than a bad encoding.
Included as special features are 2 behind the scenes documentaries, which really just reuse the same footage (one is supposedly an "Anatomy of a fight" but it really just extends some of the behind the scenes from the previous doc), and are nothing more than the typical fluff pieces that don't illuminate anyone to the actual process of making a film. By focusing more on talking to actors who do nothing more than explain what their characters are about (like those of us who actually watched this pile didn't have a fucking brain cell to spare), these shorts are a waste of time. When will producers realize that actors don't live in the same world as the rest of the crew and most people don't care what they have to say beyond the film? While there may be some enjoyment for fans, I personally find these kinds of doc's tiresome and unnecessary. Also included is a completely forgettable music video that lazily throws together footage of each of the MMA fighters in the film.
Please feel free to discuss "Never Surrender" here, in our forums!