Common sense should imply that when making a sequel, exploiting the most popular elements of the original film is probably the best way to go about things. Kazuhiko Yamaguchi knows that full well, and in Wandering Ginza Butterfly 2: She-Cat Gambler, he turns the dial up on the violence, the sex, the nudity, and the direction. And tossing Sonny Chiba into the mix doesn't hurt matters, either.

Nami is back on the streets of Ginza, and quickly finds herself in the midst of trouble again. She randomly happens to witness three men harassing a woman on a bridge, and steps in to help the young lady. She couldn't have chosen a worse subject to rescue, as the Aiboshi clan, a local Yakuza organization that has their hands in a little bit of everything, had just purchased the girl to become a member of their prostitution ring and was in the process of transporting her to their headquarters. Of course when they find out about it, they're none too happy; when they go to confront her though, they witness her amazing gambling skills and attempt to bring her into the fold. Nami, a lone wolf if there ever was one, politely declines, firmly planting her on Aiboshi's bad side.
It's of little concern to Nami however, as her real reason in returning to Ginza is to locate a man named Hoshinden, who killed her father over a gambling game 13 years ago. In her search for the man, she meets Ryuji, an entrepreneur who is looking to begin an escort business of his own. Enchanted by Nami, he steps up to the plate and begins to help her in her search for Hoshinden. Like two peas in a pod, Ryuji has also angered the Aiboshi clan, as his upstart business is encroaching on Aiboshi's territory. Soon both of them are embroiled in a bitter battle with the Yakuza group, and Nami is soon to find out that the man she's looking for has been under her nose the entire time…
She-Cat Gambler, while in name is a sequel to Wandering Ginza Butterfly, is as much a standalone film as any sequel could be. Outside of Meiko Kaji reprising her role as Nami the Red Cherry Blossom, you'll find little here that resembles the original. There are no storyline connections carried over between the two films; you won't even get an explanation about what happened between the end of the first and the beginning of the second. It's almost as if the events of the original didn't even happen. Like many Toei series of the 70s, She-Cat Gambler utilizes many of the same actors from the first, albeit in completely different roles. The first time you encounter the sunglasses-sporting Yakuza heavy, you'll expect Nami to recognize him from their previous encounters, but she doesn't and we're left to believe the film is taking place in an alternate universe of sorts.
Even though Kaji plays the same character of Nami, the similarities basically end with the name. Gone is the bubbly personality displayed in the first, and what we get is Kaji taking on the persona that made her famous: a woman out for revenge. It's because of that that I wasn't as enamored with her performance here as I was with her work in Wandering Ginza Butterfly, where it felt as if we were seeing a new side of the actress. I fully understand that at this point in her career, playing this type of role was something fresh, and this probably was a good training ground for more refined performances as the similar characters of Matsu and Yuki (Lady Snowblood),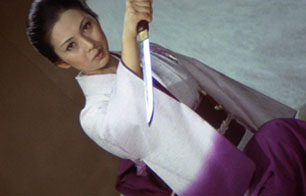 but having personally seen all of those first, I couldn't help but feel what I was seeing here was something I've seen so many times before from her. In fact, given how much I was drawn to her performance in the first film, I thought this role was almost limiting her range as an actress. Still though, this is a role she was born to play, and she does it extremely well.
Director Kazuhiko Yamaguchi turns the style meter up a notch in She-Cat Gambler, fully embracing the 70s aesthetic that so many of Toei's films of the same period utilized. Bold colors, loud set-designs inside swank clubs with swinging lounge singers, off-kilter camera angles that add a psychotronic touch, and the fashion sense that we've all come to love (or hang our heads in shame over) from the care-free attitude of the 70s. The directing style Yamaguchi utilizes in the film is much more reminiscent of his work in the Sister Street Fighter series and the Masutatsu Oyama trilogy than that of the Delinquent Girl Boss series. Just like Meiko Kaji was refining her "stone-faced warrior" personage here, Yamaguchi was likewise testing the waters for his directorial approach to later films.
As cool as it is to see Sonny Chiba and Meiko Kaji, two of my favorite actors together in one film, Chiba is for the most part under-utilized. He gets some decent camera time, but plays a stuttering, bumbling character for most of the runtime, something that doesn't exactly play to his strengths, although there are some entertaining comedic moments throughout. He does get to do what he does best in the films blood-soaked climax, but in a way it feels like too little, too late. I would have loved to have seen Chiba and Kaji given free-reign to go wild in a full-on action flick, but I suppose beggars can't be choosers.
If you're a Meiko Kaji or Sonny Chiba fan, checking out Wandering Ginza Butterfly 2: She-Cat Gambler is a no-brainer. I probably think I'll end up being in the minority in regards to liking the first film a bit more, but Kaji's performance in that film showed her in a different light than I'm accustomed to, and it left an impression on me. For those out there that care more about seeing Ms. Kaji dole out revenge in the most violent manner possible, you'll be heartily rewarded.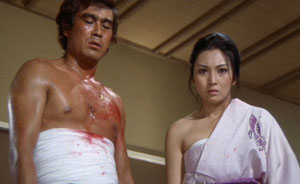 ---
As they did with Wandering Ginza Butterfly, Synapse rolls out the red carpet for She-Cat Gambler. Presented in 2.35:1 anamorphic widescreen, the print used here isn't in as good of shape as its predecessor, but still looks quite good. Unlike the first, there's some heavy grain in a couple of spots, but there's no print damage to speak of. Colors again look bold and vibrant, and details are quite sharp. The Japanese Dolby Digital 2.0 mono track is in fine shape, with no distortion to be heard. The optional English subtitles are spot-on and free of any spelling or grammatical errors, which is par for the course with Synapse releases.
Many of the extras on the disc are carried over from the first film's release, such as the sit-down interview with director Kazuhiko Yamaguchi, trailers for both films, and Meiko Kaji's biography and poster gallery. You can read about those extras in detail here. The sole unique extra we have is an 11 minute interview with filmmaker/critic/Pinky Violence expert J-Taro Sugisaku, in which he talks about Meiko Kaji's appeal not only in Japan but worldwide, as well as how she replaced the retiring Junko Fuji as Toei's lead female actress. Also included is reversible cover art featuring the film's original release poster.
Please feel free to discuss "Wandering Ginza Butterfly 2: She-Cat Gambler" here, in our forums!