After making a name for herself with Nikkatsu studios, becoming the top-billed star of their Stray Cat Rock series, Meiko Kaji made the most important decision of her career: she signed with Toei studios. It was there that she would

gain world-wide recognition for her role as Matsu in the Female Prisoner Scorpion series, as well as become a successful singing artist. Before taking on the role that would make her a Cult Siren, she led the cast in director Kazuhiko Yamaguchi's Wandering Ginza Butterfly. While the film may not be one of the more well-known pieces in Kaji's legacy, it's every bit the quality production that Kaji, Yamaguchi, and Toei are known for.
Fresh out of a three year stint in prison after murdering a member of a Yakuza gang, Nami is looking to walk the path of redemption. The first place she visits is a billiards hall run by her uncle, in the hopes that he can help her locate the wife of the Yakuza member she killed. In addition to asking for forgiveness, she also wants to thank the woman for recommending her for an early release. Once asked, Nami's uncle introduces her to Ryuji, a pimp with a heart of gold. It turns out Saeko is working as a hostess at a local club named Broncho that Ryuji has ties to, and he takes her there to meet her. Unfortunately Saeko has fallen ill and isn't there. Hearing that she needs money for an operation, Nami accepts an offer to become a hostess at the club, and begins sending Ryuji to deliver money to Saeko.
Considering the line of work Nami has chosen, trouble soon follows as Ryuji's brother Shin owes money to the Owada gang, and before long Nami gets mixed up in the whole mess. Things get even worse when the Owada's, who have recently partnered with the lending company that Broncho borrowed from to open up, begin pressing the owner of the club to pay off the debt in a matter or days or else hand over the business. Nami realizes that her ability to hustle men in a pool game may be the club's only answer to their woes, and she fully understands that her quest for atonement may be in serious jeopardy.
Often pegged as a Pinky Violence film, Wandering Ginza Butterfly is more akin to the films that helped inspire the genre, like the Red Peony Gambler series. You won't get mounds of nudity and sex or any overtly exploitive elements, but what you will get is solid storytelling and quite the interesting conflict. The idea of a group of Yakuza attempting to bully their way into owning a business is nothing new, nor is the story of an ex-con looking to straighten up, but everything is done here with such confidence that you'll rarely find yourself questioning the film's originality. Everyone involved in the picture, from director Kazuhiko Yamaguchi, writer Isao Matsumoto, and actors such as Tsunehiko Watase and Tatsuo Umemiya are experienced pros with this type of cinema, and their talents are on full display.
But maybe it's the presence of Meiko Kaji herself that makes this film standout as much as it does. She has a screen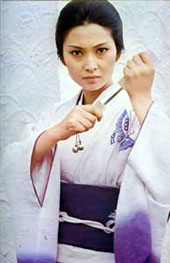 presence most actresses can only dream of, and it's no surprise that her breakthrough was just around the corner from her time spent making Wandering Ginza Butterfly, as she's absolutely at the top of her game. A pivotal scene where she asks forgiveness from the wife of the Yakuza she murdered is heartfelt and amazingly believable, as is her severe conviction of wanting to build a new life for herself. Kaji is breathtaking not only emotionally, but physically as well. You'd be hard pressed to find a more stunning woman in Japanese cinema during this era, and she's staggeringly beautiful in her role as Nami, arguably looking the best I've ever seen her.
Another thing that makes Kaji so remarkable in the film is that she plays a role that you don't often see her in. We're used to seeing her play a woman scorned, an instrument of revenge, and a member of a girl gang, but we rarely see her as just a normal woman looking to become a productive member of society. While I'm just guessing, from the few interviews I've read from her, it seems like more of her true personality shines through in this role than in any other.
Kazuhiko Yamaguchi does a wonderful job in directing the film, although with a little less flair than you might expect if you're more familiar with his later filmography. The direction is comparable to his work in the Delinquent Girl Boss series, featuring great set designs and lighting as well as some excellent occasional artistic flourishes to accentuate certain scenes. The soundtrack is the standard you've come to expect from Toei actioners, but with Kaji on board, you get an exclusive main theme that's every bit as good as "Urami Bushi" from the Scorpion films.
Add to all of that a flurry of film-ending violence the likes you generally only see in a Raizo Ichikawa flick, and Wandering Ginza Butterfly is one hell of an entertaining foray into Toei 70's action bliss. If you're looking for Pinky Violence, you may be slightly disappointed, but even those people should find a lot to enjoy here. If you're a Meiko Kaji or 70's Yakuza film fan, Wandering Ginza Butterfly delivers the goods in full.
---
Synapse Films has rescued Wandering Ginza Butterfly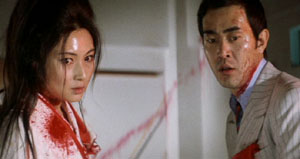 and its sequel from the now-defunct Panik House, just as they did with Horrors of Malformed Men and Snake Woman's Curse; if you've seen either of those releases, you know the amazing quality release you'll be getting here. Presented in 2.35:1 anamorphic widescreen, the transfer is top notch. There is no print damage to speak of, outside of an occasional minor blemish here and there that is easily overlooked, and the color reproduction looks dead-on. The Dolby Digital 2.0 mono audio is clear and free of any hiss or distortion. Optional English subtitles are included, and they're spotless.
The big extra on the disc is a 37 minute interview with director Kazuhiko Yamaguchi that is quite the interesting piece for Toei fans. He relays a bunch of great stories, like how he was originally hired by Toei to direct nothing but television, his work on the Delinquent Girl Boss series and the influence Sergio Leone's spaghetti westerns had on them, thoughts on Reiko Oshida (she looked great, but rarely got her lines right!) and Meiko Kaji, and much more. One of the more interesting bits of information in the piece is that producing a film based on the Scorpion manga and casting Kaji in the lead were Yamaguchi's ideas. I would however recommend holding off on watching this piece until after seeing both WGB films, as some of the scenes they show from She-Cat Gambler I would personally consider spoilers.
Other extras include an audio commentary from Chris D., which as usual has a ton of great info on Toei studios as well as everyone involved in the movie, but doesn't get too specific about the film itself. Also included is a Meiko Kaji text biography that's an interesting read, and a poster gallery featuring the films of Kaji, which will make most hardcore fans weep knowing that the chances of seeing half of these films released is slim to none. The disc is rounded out with trailers for both Wandering Ginza Butterfly films. Finally, as is the practice with all of their Toei releases, the cover art is reversible.
Please feel free to discuss "Wandering Ginza Butterfly" here, in our forums!