Brian De Palma is probably best known as being one of the true hit-or-miss directors working in Hollywood nonstop since the golden age. If there's one aspect of a majority of De Palma's films that is most notable, it may be his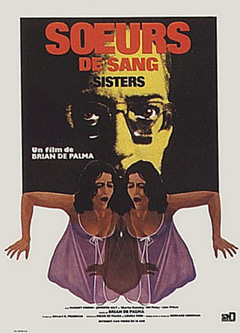 fondness for the legendary "Master of Suspense", Alfred Hitchcock, whose unique style he as "borrowed" from time to time throughout director's career. A number of his more Hitchcock-inspired films may seem unoriginal, yet there are others, like Sisters, which end up taking these influences and combining them with a number of interesting details to its story that turn it into a rather distinctive experience. Sisters was also De Palma's breakthrough feature film that would help gain him a considerable amount of respect amidst the critics back in 1973 (not to mention he somehow got Bernard Herrmann to do the soundtrack!!!).
Since I still find this film flawed, I'm just going to go ahead and flat out say that this has to be one of the most entertaining and inventive Hitchcockian films I've ever seen before. It is undoubtedly one of De Palma's best films I have seen and easily deserves much more recognition amongst his other classics such as Scarface, The Untouchables, and Carrie. The star of the film, Margot Kidder, did a rather exceptional job amidst juggling her French accent, which was faulty, but I still found plausible.
The film tells the story of Danielle Breton (Margot Kidder), a young and beautiful French-Canadian who is an aspiring fashion model. Danielle seems like a good woman, but is unfortunately haunted by the constant sinister presence of her twin sister, Dominique (also played by Kidder). She is an unstable and violently disturbed woman; the complete opposite of Danielle, whom is charming and sweet.
Dominique is very overbearing to Danielle and seems to want to dominate her. This is something the more likable Danielle is able to counteract to, and have enough self-control to stand-up for herself against. However, as said before, Dominique is a rather sick girl, and wants nothing to threaten breaking the bond between her and her sister.
Dominique eventually snaps and stabs to death someone close to Danielle. The stabbing is very brutally and disturbingly depicted (especially for coming out in 1973; when violence in cinema was still a controversial issue). It also moves the viewer from this unsettling sequence to one of the film's best and most famous parts; the split-screen sequence.
In this wonderfully shot extract, we witness the aftermath of the stabbing through a split-screen, showing the victim, in their last breaths, signaling for help out the window, while the other screen depicts the neighbor in the building across having witnessed the murder. This witness is a freelance reporter by the name of Grace Collier (Jennifer Salt).
The split-screen still engages, as we proceed through the two sequences being shown at the same time. While Grace rushes to call the police and meet up with them outside of Danielle and Dominique's apartment complex, we are also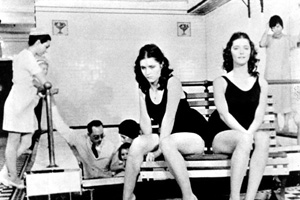 treated to seeing the frantic Danielle and her ex-husband, Emil (William Finley), whom is obviously aware of Dominique's unstable behavior and capabilities, meticulously disposing of the body and covering up the scene of the crime.
Danielle and Emil end up doing a rather impressive job of cleaning up any evidence suspecting a murder had even taken place. Grace is the one with the problem, however, as she already has bad blood with the local police force due to an article she wrote giving them a bad image. They leave, having no suspicions whatsoever of Danielle, instead thinking of Collier just trying to make another story for the newspaper.
The police end up completely dismissing Grace's accusations. This leaves the freelance journalist to scope out Danielle herself. With the help of a scruffy private investigator (Charles Durning), Collier begins spying and keeping tabs on Danielle in order to find the proof she needs. Grace eventually looks more into Danielle and Dominique's past, but the deeper she digs into their history ends in her discovering the twins' dark secret. As their peculiar history comes to revelation, the ill-fated sleuth finds herself caught within the corridors of a bizarre conclusion.
Perhaps what makes De Palma's camerawork, particularly the split-screen sequence, such an entertaining achievement is how it alone represents De Palma's philosophy as an artist; how he directs these stylish sequences reminiscent of Hitchcock. Yet, by almost updating the atmosphere and the setting of the film as well as adding his own twists to the story and presentation, it provides a feel of direction that is capable of being unique. He really is a hit-or-miss director, and even though the guy has made one too many duds, he definitely deserves credit every once in awhile, especially for films like this.
The acting is very well done. Margot Kidder did a great job, especially as Dominique. Her portrayal is an intensely insane sort of evil that I find disturbing by merely her body gestures alone. Jennifer Salt doesn't really deliver anything special, but her character is great and she still does a decent job of representing Collier. The murder is the catalyst of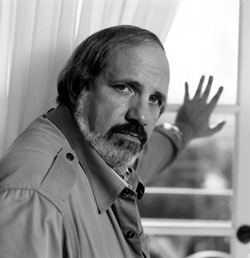 the film and she was someone looking for something to investigate and just so happened to be at the right place at the right time. Grace has an open-mind, but it lets her determined and over-zealous behavior get the best of her. It is this same reason why most people have a hard time taking her seriously.
Most of the other performances were rather forgettable, aside from William Finley as Emil. I found his performance rather creepy, especially his close-ups. His presence and purpose help add an even more eerie feel the film.
The music is blissful of course. The score was composed by the legendary Bernard Herrmann, best known for collaborating with Alfred Hitchcock for a number of his films. The soundtrack he composed for Sisters fits the film perfectly. Herrmann helps to create this intensified feeling of suspense that grips the mind's conscious. It certainly has a feel to it reminiscent of other films featuring Herrmann's compositions, but that's part of what makes the overall music so great; that sort of retro feel to it.
Overall, Sisters ended up being one hell of a thoroughly entertaining Suspense flick with some truly twisted elements. The split-screen and infamous dream sequence near the film's conclusion are alone why cinephiles deserve to check out this landmark film. Aside from its flaws, including an ending I found somewhat disappointing, I really couldn't recommend it enough to fans of the director and movie buff's alike.
Hell, like I said: It's a landmark film directed by Brian De Palma! That's a very hard thing to come by, given the guy's constant on-and-off successful career. It's hard to say even that, since he has made almost nothing but bad films for the past two decades alone, but believe me when I say this is one of, if not his best film to date…well, at least from what I've seen, so far.
Please feel free to discuss "Sisters" here, in our forums!