I think somewhere there's a fine line between satire and straight-up comedy, but where this line exactly is can often be decidedly blurred. To 'get' a satire, the viewer has to have at least a bit of knowledge in the subject matter to find it funny or scathing or whatever the director had intended. A comedy can just stand on its own and still be hilarious. I didn't 'get' What Just Happened, which I think is supposed to be a satire, and hence I didn't find it exactly laugh-out-loud funny. But I think I get what the filmmakers were going for...if that makes any sense at all.
The film is about a week in the life of a Hollywood producer as he struggles with the shenanigans of spoiled actors, agents, executives and the dregs of two failed marriages. It's kind of like a whirlwind behind-the-scenes look at producing – the art of juggling the myriad responsibilities of multi-million dollar movies. The producer, Ben, is played by Robert De Niro, who is in post-production of a Sean Penn action film (entitled 'Fiercely') that must be a hit if he wants to make his hefty alimony and child support payments - his livelihood is on the line if it flops. Problem is, the sketchy director wants to seem edgy and fresh and is unwilling to compromise and cut the final scene, which is the killing of a dog (one of the bad guys shoots it right in the head!). The test audience and executives are understandably not impressed, and there are lengthy arguments over whether they can excise the scene, or if it compromises the film's edginess too much to do so. And that's just one problem film Ben is involved in – how can he release a movie to the general public with that ending?
The spoiled actor is Bruce Willis, playing himself, who has spent six months growing a very impressive beard and refuses to shave it. When Ben tells him to lose it or the production company will sue, Bruce throws a hissy fit and destroys the wardrobe room. He's enough of a loose cannon that his agent (John Turturro) can't find the balls to tell him where to go. And then there's two ex-wives and children. A script-writer who Ben snubs, only to find him sleeping with his ex. Etcetera.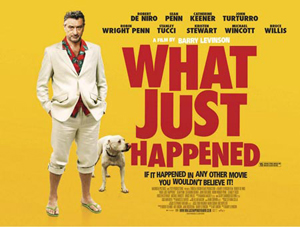 Obviously what I have described here appears convoluted, which is probably what the director was shooting for. It's sort of like an ensemble piece, and indeed there are a lot of characters that come in and out and give Ben various headaches of some degree or another. The cast is superb, but the material seems...tired. I know that part of my problem is that I don't know the movie business, and so I can't say whether the caricatures are accurate or not. However, I think the film's biggest flaw is that it's time and time again just a walking cliché. Is it funny to see Bruce Willis lampooning himself? The whole beard business is comical? I am not sure, but what I am sure about is that the stereotype of the spoiled actor has been done. So has the eccentric and drug-addled director who fancies himself an offbeat artist. And the over-bearing executive. And the neurotic reactions from Ben to the man making advances to his (long) ex-wife. It's all pretty boring in the end.
Of course having said that, the performances are all great, especially Jon Turturro as the wimpy agent. He has some strange stomach condition and chokes and gags his way throughout the whole movie. And De Niro is bang-on as usual, playing the quiet man who watches on as things seemingly fall apart around him. Some of the best moments in the film are the ones where we get to watch him react to other characters, like the scene with his ex (Robin Wright Penn) at their therapist. I wondered, however, if De Niro was the best choice. There is a fun scene with him and Bruce Willis where Willis threatens Ben, but I don't think it really worked as well as it could have because it's Bruce Willis threatening Robert De Niro. Just didn't seem authentic, even if De Niro plays the part to a tee.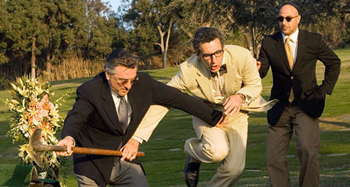 What is actually funny and a highlight of the film, is how the director Levinson uses the score. Ben has a CD of the Fiercely soundtrack in his car, and while he plays it the music becomes the background for the film. So for instance, when he thinks he figures out who is having the affair with his ex-wife, there is this ridiculously tense music playing that would have been from a heavy scene with Sean Penn or the dog getting shot or something along those lines. There are all kinds of instances like this, and the Fiercely soundtrack becomes the soundtrack to Ben's life, in a way.
Maybe I seem like I am being a little harsh on the film, and that is partly true – I found it to be pretty flat and unremarkable. I do think, though, that those within the industry might find it funnier or find it a wonderful, biting satire of the production business...but I can't say. Somehow I think not. It's not terrible, and my 3-star rating reflects that, but it is lacking something deeper. It's like everyone in the film is walking around just doing what they do every day, not particularly different than any other. Perhaps that's the point? I can just shrug and move on.
Please feel free to discuss "What Just Happened" here, in our forums!