Despite a filmography boasting over 70 films, relatively, I've seen but a fraction of director Takashi Miike's large body of work. However what I have seen i've enjoyed immensely,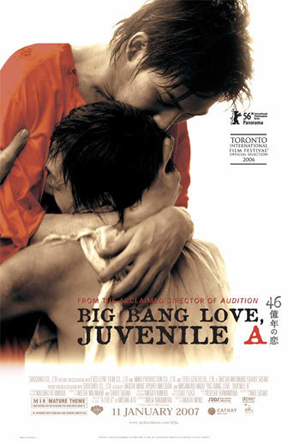 so it was but a matter of time before I finally began pushing forward and tapping into Miike's considerable output of films. Such was what eventually peaked my interest in 2006's Big Bang Love, Juvenile A (Love of 4.6 Billion Years), an adaption of the Ikki Kajiwara and Hisao Maki helmed manga "Shônen A erejî". The title which may at first appear to be a peculiar moniker; can be elucidated first in reference to "big bang", representing the rough scientific approximation of the earth being 4.6 billion years of age. While "Juvenile A", denotes the court systems usage of letterings to protect the identity of juvenile defendants.
The bulk of the story unfolds within the stifling confines of cold prison walls, starting with newly admitted inmate Jun Ariyoshi (Ryuhei Matsuda), straddling over the lifeless body of fellow prisoner Shiro Kazuki (Masanobu Ando). Hands gripped around the victims throat, Jun repeatedly proclaims "I did it', as authorities rush in to discover the gruesome scene.
With what at first appears to be an open and shut case of homicide wrapped neatly with a confession, slowly unravels into a bizarre triangle of obsession, unexpected kinship and alienation.
Jun completely new to the penal system, finds himself imprisoned after savagely murdering and mutilating his rapist. While Shiro with a history of petty theft, rape and violence, finds himself back in prison after beating a man dead with his bare hands. For reasons never fully explained the two find themselves to share an unspoken bond shortly after entering the prison facility near simultaneously. Immediately and totally out of character we see Shiro taking a protective stance against any aggression towards Jun, while continue to aggravate and or assault anyone else who dare get within his reach that has fallen prey to his annoyance. Jun soon begins to look up to Shiro, possibly romantically, and with awe stricken sense of worship.
As the story progresses we see the characters relationship build, though never wholly fulfilled or exposed. The narrative proceeds in sections slowly building after the initial crime. Focusing firstly on their "prison life", moving then onto possible motives for murder, the investigation and eventually ending with the solving of the case.
The films presentation is in no way as straight forward and simplistic as the above synopsis would indicate. The film is filled with various symbolisms, elusive innuendos and open ended interpretations. Its multifaceted layering offers a wide varying of implications and social commentary ranging from homosexuality, the assumed masculine bravado, to the often ineffectual justice system ect. It is with this, and under the films often erratic narrative that the film evolves from a simple who done it to a poetic study of humanity, its society and the relationships therein and in between.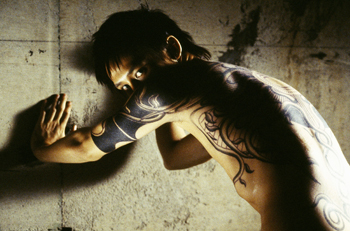 The visuals here are simplistic, albeit stunning and most importantly thought provoking. Minimalistic set pieces hint to the illusion of a theater setting, with the usage of deep blacks (supposedly to emulate prison walls) amidst luminous (though mostly yellowed) colorings. It serves to distance the viewer from realities cognitive constraints pushing more so to the overall intended meaning. Furthermore through the usage of a myriad of perspective camera anglings the film effectively conveys distinctive atmospheric conditions in addition to the often picturesque imagery.
What makes the film so intriguing I find is its varied understated assertions, thus keeping the adept viewer in tuned to several intended plausibility's and most importantly it forces your brain into churning along with it. So often when viewing films do we succumb to the mindless offerings of cinematic masturbation, that we as movie goers lose the elusive elation of wonderment and the joyful discoveries which potentially may follow. While yes there is a wide birth of subtext to dissect and ponder upon, at the films core remains a tangible and engaging storyline. This keeps the viewer from getting completely lost in unstructured examinations, and provides a relatable reference point to expand upon.
It's true that while Big Bang Love does have its moments of violence and action, it is most assuredly a thought driven piece meant to stimulate the synapses intellectually more so than gratuitously. Therefore gore hounds beware, if you're looking for Ichi the Killer-esque excesses in bloodied dismemberment you won't find them here. With this Miike has once again distanced himself from his more noted Grind House styling's and moved towards the Art House leanings of previous works such as the seminal Yukaza mindfuck that is 2003's Gozu.
Like essentially every Miike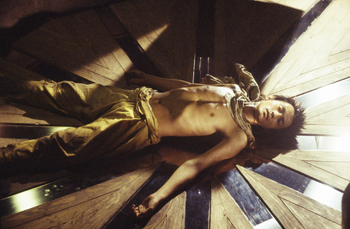 film that I've seen up unto this point, I could never recommend Big Bang Love, Juvenile A to everyone. However it is definitely a must see for those open to an at times perplexing, most assuredly brooding, visually entrancing slice of surrealism all of which encases a gripping storyline. One thing is for certain though; this is not your grandfather's typical homoerotic prison murder mystery.
AnimEigo has put out a wonderful 2 disc edition of the film, which includes a 1.85.1 anamorphic widescreen transfer, 2.0 Dolby Digital Japanese audio, various English subtitle options, an approx. 41 minute making of featurette, an approx. 20 minute interview with director Takashi Miike, image gallery, theatrical trailers, cast and crew bios and the usual ever appreciated program notes.
Please feel free to discuss "Big Bang Love, Juvenile A" here, in our forums!