The locals have a bet running, trying to guess how Son Hayes (Michael Shannon) got those buckshot scars that speckle his back like leopard's skin. He got them cheating on his wife, Annie, probably. Or did he get them holding up a convenience store? By the end of Shotgun Stories, we have a pretty good idea how they got there. We also understand that it's never the scars we see that are the significant ones; it's the deeper cuts that define who we are, that betray those motivations that really drive men to do the things they do. In this town, those cuts run generations deep.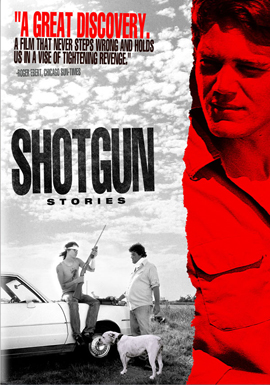 And so we have the Hayes brothers – Son, Boy and Kid – around whom the plot revolves. What defines these men is the relationship with their estranged father, or more accurately the lack thereof. While we never actually meet this father, or are given any information about him, it is painfully apparent how much of an impression he has left on them. Oh, but the film teaches us so much about it you never need to even see the man to know. They even wear their names like announcements of his neglect, the flippant tone of the words "Boy" and "Kid" like an ongoing insult in and of itself. Like constant reminders. It gets to the point you begin to wonder if the father actually named them as such, and what the hell kind of father would do that anyway.
Their mother arrives on their doorstep one night, announces their father's passing and promptly turns to walk away into the darkness. When Son asks "when's the funeral?" all she cares to muster is "check the newspaper." "Are you going?" Son says, and as she disappears down the walkway she doesn't hesitate to answer "no." Shotgun Stories is a tale of revenge; of male pride and blood ties and small towns. It's about hatred - or rather, perceived hatred - by men who couldn't tell you why they hate, only that they are certain of it. There are another set of Hayes boys – step-brothers to Son, Boy and Kid from their father's second marriage. When Son shows up unexpectedly to the funeral he announces that "just because he quits drinkin' and finds Jesus doesn't change who he is." He spits on his father's casket in front of everyone, and thus begins a feud between the step-families, a seemingly ridiculous class war that spirals way out of control.
Son acts as the catalyst and is the focal point of the story. He's married but his wife and son have left the house due to his gambling. It's hinted that he was once a math wiz, but now he's relegated to practicing his card counting for hours at home, taking notes and claiming he has a "system." He only breaks even at the casino. Kid lives in a tent in Son's backyard and thinks he loves his girlfriend Cheryl. He insists he'll get that raise he has coming to him and when she calmly tells him that she doesn't care about that, we know by the look on his face that he really doesn't get it. Later, he confesses to Son his apprehension about buying her a ring, seeing that he lives in a tent and doesn't even own a truck. Boy lives by the reservoir with his van and his dog. He's naive enough that he buys an air conditioner to cool down the van, and thinks it'll work by plugging it into his lighter. When he hastily buys a shotgun from a pawn shop, he sighs when he realizes he has no idea how to assemble it.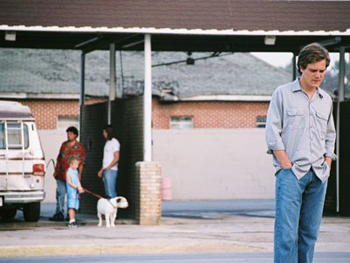 The step-brothers, Mark and John, won't let the episode at the funeral go by unanswered. One of them captures a snake, which ends up in Boy's dog's water bowl. You can guess what happens. But, as in most small towns, hardly a deed goes by without someone catching wind. Kid hears from a local drifter that Mark Hayes put the snake there and it isn't long before more blood is shed.
The backdrop is Southern Arkansas – with the kind of scenery that appears wide and vast and endless, but only serves to further isolate the town and the feud going on within its boundaries. Beautiful, wide-lens shots set the tone, where time seems to stand still, where very little changes over the years save for the amount of rust on the trucks. What else is there in these tiny pockets of the world except family? It doesn't take long to see why one could so vehemently defend their own kin. They'd die for family pride, and indeed this is what happens. The performances, by mostly little-known actors, are remarkable, and Michael Shannon proves once again why he was more than deserving of an Oscar nomination for his work in Revolutionary Road, released the same year as this film. There is true emotion buried deep in that grimacing face of his, and even though his Son is a man of few words, they are never needed.
And where are the women during all this? There is the mother. And Annie, and Cheryl. And the step mother. But they float in and out of the story, providing conversation for the brothers, offering consolation when you know the men are inconsolable anyway. But no matter. This is a film about male pride, about standing up for your brother in a world where there most likely isn't someone else who's going to do it for them. Mark has teenage sons, who get heavily involved in the feud as well – a great choice by the writers to demonstrate how this pride is passed from generation to generation. It's like it's in their very blood to be vengeful.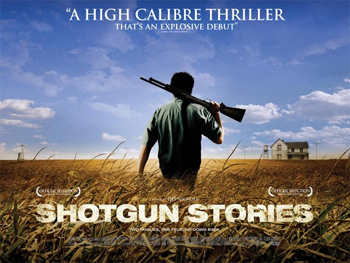 "I want this to end," says Boy as he confronts his step-brother, and you want to believe him, but it's nearly impossible to fathom. It is out of his control. It is deeper than that – deeper than the scars that dot Son's back. But there seems to be hope somewhere in all this mess, even though the description I have given may not hint at that. Somewhere along the line, you lose enough and it catches up to you. Then maybe you'll see that there are no real differences between 'them' and 'us', that the past can't always dictate how you approach the world around you.
Shotgun Stories awed me with its authenticity and pitch-perfect characters and dialogue. You may have to dig for it, but take the time to seek this out and you won't be disappointed.
Please feel free to discuss "Shotgun Stories" here, in our forums!